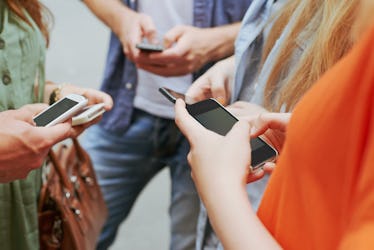 8 Things I Learned After Taking A Week Off From All Social Media Outlets
When my editor asked me to take a social media hiatus for a week, à la Gigi Hadid, I didn't think it would be that difficult for me to do. And to be honest, it wasn't that difficult for me. I don't actually like social media that much, nor am I constantly posting on any of the usual outlets, even though I definitely do use it pretty regularly. What surprised me the most about my social media hiatus, though, was just how many positive effects there were when I chose to intentionally and completely step away from it for a while — so many, in fact, that I'm planning to extend this hiatus a few days longer on my own.
Again, while I do consider myself to be pretty amateur-level as far as social media users go, it's actually a much larger part of my life and my everyday experiences than I had previously thought. I also realized that I use quite a lot of brain power to consider the kinds of things I would post, if I someday got my sh*t together to maintain a "better" social media presence.
As of now, I have a Twitter upon which I mostly post one-liners, but scroll through often for news and other people's opinions, an Instagram I use almost entirely to look at other Instagram accounts, a Facebook profile that now seems more or less like a personal shopping outlet, and a Pinterest with, like, three pins.
But I believe more and more that the habits I've cultivated with social media seem to affect my everyday life in ways that ultimately feel more negative than positive. And research definitely shows that we not only receive validation from being "liked" and constantly watched by others; we receive an actual dopamine high from it, the same way one does when they take a drink or a hit off something.
Recently, former Facebook executive Chamath Palihapitiya spoke out about what he believes to be the very destructive reality and impact of social media globally.
Palihapitiya told The Washington Post,
It literally is a point now where I think we have created tools that are ripping apart the social fabric of how society works. That is truly where we are.
He added,
The short-term, dopamine-driven feedback loops that we have created are destroying how society works: no civil discourse, no cooperation, misinformation, mistruth. And it's not an American problem. This is not about Russian ads. This is a global problem.
My own little social media hiatus brought about many of these kinds of conversations about the nature of social media, too. I happened to be on a media trip to Jackson Hole, Wyoming with some Instagram influencers while I was doing this experiment. That's right, my travel companions during my social media hiatus were literally people who create their livelihoods off of social media. With 700 million global users, "Instagram influencer marketing" is now a one-billion-dollar industry. To state the obvious, it doesn't seem to be going anywhere.
For me, the amazing thing about social media is how it makes it possible for all kinds of different people to have nuanced, important, difficult conversations that would not be able to take place otherwise. But I do often wonder how to toe the line between the positive and the negative when it comes to daily use of these outlets.
So, to make a little more sense of it all, here are a few things that came to light when I said goodbye to social media for a week.