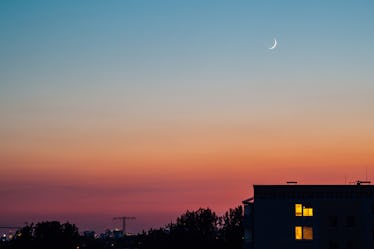 The New Moon May Disrupt Your Beauty Sleep, So Here's How To Protect Your Snooze
The final new moon of 2017 will glow in the sky on Dec. 18. and, as is the case with anything astrological, people are curious about whether or not the lunar phase will benefit us as we transition into the new year. This time around, the new moon is in Sagittarius, which has everyone in a reflective state of mind: How will the decisions we make during the next few weeks affect the start of 2018? Will it disrupt our work-life balance? You might even be wondering about physical changes, too, like how does the new moon affect sleep, and how will your body react to a new cycle?
Psychology Today reported in 2013 that scientists from the University of Basel in Switzerland found that our sleep cycles tend to shift "throughout the moon's 29.5-day cycle," especially around the transition from full to new moon. According to their studies, people have more trouble falling asleep during nights of the full moon, and during the new moon, it slowly became easier for their volunteers to fall asleep at their normal time.
As fascinating as it is to find parallels between the physical body and the ways of our solar system, please keep in mind that every body is unique, and that studies speaking to astrological affects on humans are very generalized, so it's important to approach these topics with a grain of salt. That being said, if you do notice a change in your sleeping patterns during the new moon, here are a few ways to combat the effects and save your snooze from any lunar disruptions.