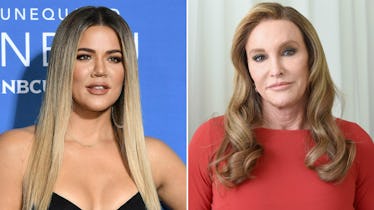 Caitlyn Jenner Reportedly Left Khloé Kardashian Out Of Her Mother's Day Post & Yikes
Dia Dipasupil/Getty Images Entertainment/Getty Images Vivien Killilea/Getty Images Entertainment/Getty Images
This Mother's Day was a super special one for Khloé Kardashian since, you know, it was her very first one EVER since giving birth to baby True! If only someone hadn't reportedly tried to mar the occasion with a passive-aggressive dig on social media. Caitlyn Jenner left Khloe Kardashian out of her Mother's Day tribute post, according to a report, despite the fact that she basically gave shout-outs to almost every single other mama in the Kar-Jenner family. Not cool, Caitlyn. Not cool. And I said "almost," because Kourtney wasn't in there, either. Seriously, what's your damage, Caitlyn?
According to Elle, what happened was this: The retired Olympic gold medal winner took to Instagram to share a slideshow post that featured pics of Kylie Jenner and her daughter Stormi Webster, and Kim Kardashian with her daughter Saint West. Sons Burt and Bradon even made the cut for some reason — Father's Day is not until June, yo! — and shockingly, so did Caitlyn's ex-wife Kris Jenner. "So blessed to have so many amazing moms in my life," she captioned her post. But then as soon as the internet started blowing up with questions about the snub, she reportedly doubled back and deleted the whole thing.
Lucky for us, screenshots exist, and a fan account called instablogus managed to grab a few before it all disappeared (you can see them here).
The pics are actually so sweet, but the whole turn of events is super confusing for so many reasons. First of all, I thought Kris, Kim, Kourtney, and Khloé had all severed ties with Caitlyn for good after all the brew-ha-ha surrounding her tell-all memoir. Was this her attempt to extend an olive branch? And if so, why leave out KoKo and Kourt? Did Kim and Kris have some kind of secret reconciliation with Caitlyn that none of us know about? It wouldn't be the first time the fam managed to keep such big news on the down-low. I mean, remember how none of us knew Kylie Jenner was even pregnant until after she already had the baby? But if that's the case, then why go back and delete everything after the entire internet had already seen it? The whole thing is just so awkward.
Even so, Khloé didn't seem the least bit phased. On May 13, she hit up her own Instagram story to tell all her fans that she was feeling the Mother's Day love.
Look at all those gorgeous flowers! Like her little sis Kylie, she also got a bunch of oversized letter balloons, only instead of "MILF," hers spelled out "KOKO":
There were also some cool tees from her clothing line Good American that said "Mom Life" and "Good Mama":
Another epic flower arrangement, this one heart-shaped:
And it looks like even baby True got a pretty awesome gift, as well — a pink faux-fur jacket with her name on the back from fashion designer Jennifer Le:
Is it weird to be jealous of a one-month-old? Asking for a friend.
Before Mother's Day, the Revenge Body star took to her app to chat about what the holiday means to her. "I've always loved Mother's Day and celebrating Kris Jenner, [grandma] MJ and my sisters," she wrote. "But this year will be even more special because now I'm a mommy, too!"
So sweet! And, of course, the best part of the day came when Khloé shared the most adorable pic of little True over on her Snapchat:
Look at those cheeks and lips! Has anything ever been sweeter? Hope you enjoyed your first Mother's Day with your gorgeous little girl, Khlo. Hold your head high and keep ignoring that shade because you got this, mama!