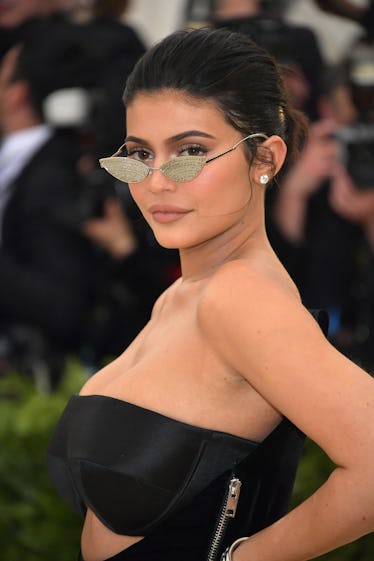 Kylie Jenner's First Mother Day Was So Extra & I'm Impressed
Neilson Barnard/Getty Images Entertainment/Getty Images
There's a whole lot of celebrating going down in the Kardashian-Jenner household for Mother's Day, y'all. We've got momager Kris, who's the leader of the pack. Then we have Kim, Kourtney, and Khloé, who are all moms, but let's not forget about the youngest Kardashian mom: Kylie Jenner! While she maintained radio silence throughout her entire pregnancy with Stormi, now that she's here, we've been #blessed to see Kylie and her daughter back on social media. And today, we found out how Kylie Jenner spent her first Mother's Day, and it will give you all the happy feelings.
But first, let's just give a little bit of appreciation for Kylie doing the most "mom" thing of all: deciding to keep her pregnancy out of the public eye so that she and her baby would feel stress-free and could fully enjoy the months they had together while lil' Stormi was still growing in Jenner's belly. On Feb. 4, Jenner announced on Instagram that she'd given birth to her daughter on Feb. 1, and apologized for keeping her fans so out of the loop throughout her journey. And honestly, no hard feelings, girl, I admire the heck out of you for doing that. Part of her Instagram post read,
I understand you're used to me bringing you along on all my journeys. my pregnancy was one I chose not to do in front of the world. I knew for myself i needed to prepare for this role of a lifetime in the most positive, stress free, and healthy was i knew how. there was no gotcha moment, no big paid reveal i had planned. I knew my baby would feel every stress and every emotion so I chose to do it this way for my little life and our happiness.
Kudos, Kylie. Staying out of the media for all of those months makes me seriously think that you're some kind of magician.
But now that Stormi is here (and is quite possibly the cutest kid in the whole world), Kylie Jenner can celebrate her very first Mother's Day with all of the women in her family. Jenner took to Instagram and showed her fans what her Mother's Day looked like.
Jenner actually spent most of her first Mother's Day honoring her own mom — all day, her Insta story was flooded with promos for her latest cosmetics collaboration drop, the Kris Kollection dedicated to her momager extraordinaire, Kris Jenner. But if you waited till the end, you saw the amazing balloons that Jenner got for her first ever Mother's Day. These are no ordinary balloons people — these balloons spell out "MILF." Which, clearly, is just everything. I can only hope that my significant other will gift me these same balloons when I become a mom. Jenner also received stunning bouquets of pink flowers for the occasion, but it's the balloons that truly take the cake.
Atta girl, Kylie. Leave the brunch and the cupcakes to the other moms — celebrate in your own way, and get you those MILF balloons. You deserve every minute of enjoyment, because, you know, you created a human life and all of that.
You do you, boo!
Now, all of the Kardashian-Jenner siblings are now moms, with the exception of Kendall Jenner. But don't worry: It seems that Kendall's in no real rush to become a mom just yet.
In an interview with Elle, Kendall revealed her reaction to sister Kylie's pregnancy, and it's not at all what you'd expect. "It's obviously a bit weird that your little sister is having a baby before you. I didn't expect it to happen like this. But it's beautiful," Kendall said, and honestly, it does make sense. If you're the older sister, sometimes it's assumed that you'd do all the Big Life Things first, like get married or have kids. But it's 2018, sistah! We do what we want!
She also talked about how motherhood has changed Jenner for the better, and has helped their relationship become stronger. She said,
It's brought us closer together. We've always been very close, but we would butt heads all the time. This has made her a bit more loving toward me.
Proof that Jenner is a good mom and a good sister. How do you manage to do it all, Kylie? Tell us how you do it.
Touché, Kylie. Touché.