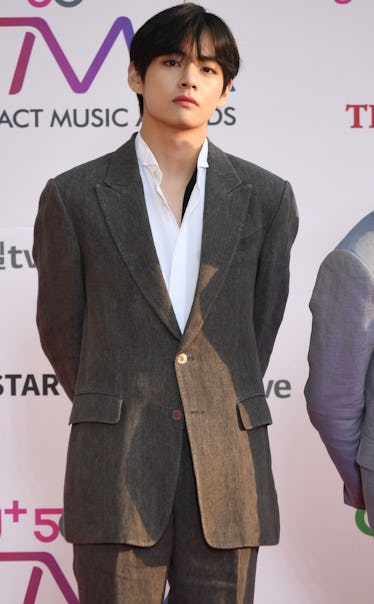 V Teased Another Solo Song On Twitter & The Lyrics Will Soothe Your Soul
The Chosunilbo JNS/ImaZinS/Getty Images
Fans are one step closer to hearing V's highly-anticipated debut mixtape because on Tuesday, April 20, the singer shared a snippet of another solo track on Twitter. He captioned it, "Sleep," which ARMYs think is the name of the song. You need to see BTS' V's "Sleep" lyrics in English because they're beautiful. As you can expect, they're the type of lyrics that will instantly put you in a good mood.
V dropped the two-minute teaser on BTS' shared Twitter account. The video he posted shows a black screen while a live recording of the song plays, giving the overall sound of the track more of a raw feel. At some points, you can even hear rustling going on in the background, which only adds to the natural atmosphere. V's vocals on the track are also so soft it sounds like he's singing a lullaby to ARMYs. The lyrics are just as comforting because they're about going to sleep.
According to a fan translation by @btstranslation7, the lyrics go:
The silent night approaches me / and when I look towards the window with an empty gaze / I see the clouds outside are still walking [in the sky] / and the ruffling of my bed covers / slowly, slowly fades away / slowly, slowly the night fades away
The night's become warm and a comfort to me / Can I go to bed & sleep tonight? / May I lean my body on you now / I'm leaving to sing another story of mine / But I'll be back again / May i lean my body on you, tonight / Day and night, I think of you / In my dream
You can hear V's "Sleep" below, as well as check out its English lyrics.
ARMYs praised the song on Twitter, saying they especially liked its comforting vibe. "tae's songs are so fkn beautiful and actually feel like a warm hug I want to cry," one fan tweeted, a perfect description of V's music.
"ahhhhhh the song is so gorgeous and soft, and sound so much of Tae's style. so much like a soundtrack, too, especially of an old movie," another ARMY wrote.
According to @modooborahae on Twitter, V may have teased the track as early as May 2020. When a fan asked him on Weverse if there's a song he recommends to listen to when you can't fall asleep, V replied, "Please wait. I'm making it." Since the latest snippet he posted is literally about going to sleep, it's safe to assume he was talking about this song back then.
All of V's solo songs are so comforting and they each carry an important message, which is why fans can't wait to hear his full mixtape. They initially thought he was going to drop it in December 2020 for his 25th birthday, but since that didn't happen, ARMYs have been waiting for another update.
With the release of this snippet, fans are hopeful V's mixtape will drop soon!