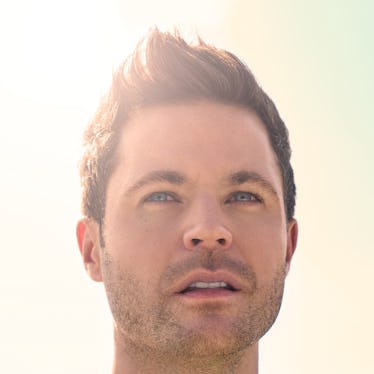 This Groundbreaking Country Music Video Makes You See Coming Out In A Whole New Light
Courtesy of Brandon Stansell
Did a new country singer express the struggle of being queer in a conservative area and the solace of chosen family all in one music video? It certainly seems like it. Now playing on CMT, Brandon Stansell's "Hometown" Music Video navigates coming out, feeling rejected by your family, finding your own queer and ally community, and holding space for all parts of yourself — in just under five minutes.
Born and raised a country lover in a small town in the ruby-red state of Tennessee, Stansell's own coming out experience has inspired much of his music. "I experienced rejection from the people who were supposed to love me the most and I thought I would never get over it," Stansell recounts. "As painful as those experiences were, I can't help but be thankful for them; they made me who I am and that is a person I am deeply proud of."
Widening the conversation around coming out, "Hometown" depicts Stansell cultivating pride of where he came from, and how his painful experiences informed who he grew to be — a proud gay man and "back home" country boy. His work shows complexity in understanding identity and that queer people, especially those living in more rural or conservative areas, shouldn't need to have to choose between being openly gay or being "country."
Here's a peek at the ground-breaking video:
Starting in his family home after being shamed and kicked out by his mother, Stansell leaves with only a backpack. Through this struggle, Stansell begins the complicated process of learning to love himself — all of himself — and discovers a pack of like-minded, supportive friends with whom he can share stories and space. This video paints a vignette of a world in which there is room to be openly gay and proud of where you come from, and that you don't need to reject the place that rejected you. In fact, you can embrace it, and share it with those who love you.
"Everyone wants to hear a story they can relate to, but for LGBTQIA+ fans of Country Music, we don't often hear our stories being told on country radio or see them played on out on CMT," Stansell shares. "I'm hoping to be part of changing that. For the longest time it has seemed as if Country Music and my community were like oil and water, but hey — even oil and water mix if you shake hard enough."
To start to feel proud of you roots can be an important piece of uncovering your queer identity, especially when that pride beings to flourish after years of shame and rejection.
As much a culture as it is a musical genre, country is not historically known for it's particularly progressive lyrics or videos. In 2010, Chely Wright became the first country star to come out as gay, setting the stage for other queer stars like Ty Herndon and active allies like Cam and Kacey Musgraves. Stansell is amongst other queer country stars who are making the genre less homogenized and in so, less homophobic.
Stansell's work increases representation in a straight and cis-dominated scene, its creates a new kind of nostalgia for a hometown that comforts and welcomes you, and it aims to show the power in chosen family — the people who you deliberately choose to love and support.
The power of intersectionality, or the connectedness of different societal categorizations like race, physical ability, sexuality, or class is crucial when it comes to making people feel safe and represented. Embracing both the queer and country facets of your identity can feel impossible. But as Stansell shares on his Instagram, "You are not responsible for others' feelings or their reactions or any harsh words that come out of their mouths. Remember you are beautiful, special and important. Remember to be kind to yourself." Stansell is changing the game for country music lovers of all genders and sexualities. So pour yourself some sweet tea, watch the video for "Hometown," and reflect on all the ways the place that raised you has informed who you've grown to become.