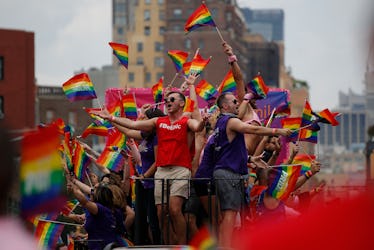 These Photos Of Pride Around The Country Have Everyone Cheering, "Love Is Love"
Kena Betancur/Getty Images News/Getty Images
Every month is a time to be proud of who you are, but there's only one Pride Month. It's a time for the LGBTQ+ community to celebrate, allies to cheer, and the world in general to celebrate love in all its beautiful and varied forms. Around the country, cities and communities celebrate with colorful and inclusive events that honestly, just make me wish there was a way to go to all of them. Since science hasn't figured out teleportation yet, (seriously, science, get on that), for now, these photos of Pride 2018 around the United States will have to do.
Many of the parades and events are timed to honor the anniversary of the the 1969 Stonewall Riots in New York City's Greenwich Village, which is credited with kickstarting the gay rights movement. This year, with politics being what they are, many of the festivities are honoring that legacy of struggle right along with the celebrations of love — many events around the country have been given themes like "rainbow resistance" or "defiantly different."
While pride goes all month, in many places the highlight of the festivities is the Pride Parade. In New York City, more than 48,000 marchers were planning to participate in the annual parade, per AM New York. In San Francisco, there were an estimated 1 million people who attended the 2017 event, according to ABC7. While the world may be a terrible, depressing place a lot of the time, it's still important to step back and appreciate life, love, and the ability to stand up and be proud, and these joyous photos are a perfect way to do it.