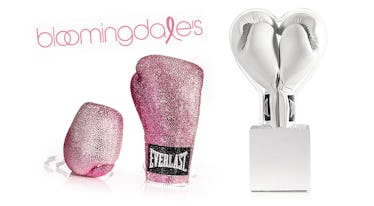 Bloomingdale's & Everlast Are "Knocking Out" Breast Cancer With Chic Boxing Gloves For Charity
Courtesy of Bloomingdale's
With Oct. 1 signaling the start of Breast Cancer Awareness Month, tons of brands and businesses are doing their part to donate and raise awareness about a myriad of incredible organizations dedicated to breast cancer research, prevention, and the search for a cure. It turns out, your favorite department store, Bloomingdale's, is one of many making efforts to help. And believe me when I say the retail giant is doing it big, since this is year 14 of their participation. To ensure they gather as many proceeds as possible, Bloomingdale's teamed up with boxing and activewear brand Everlast — as well as tons of all-star designers — to create 14 little masterpieces you can bid on to benefit the cause.
To give us something worth bidding on, Bloomingdale's and Everlast have commissioned 14 different designers to go to town on one pair of boxing gloves each. Once crafted and stylized to perfection, the pairs were to then be put up for auction, with all proceeds going to the Breast Cancer Research Foundation (BCRF). The bidding will take place on Charitybuzz, and last from Oct. 1 until the end of the month. It's expected that fans of the designers will shell out the big bucks to own these one-of-a-kind boxing gloves, and after seeing them, I totally get why.
The complete list of all 14 designers and brands participating in the boxing glove DIY includes Alice + Olivia, APL, Bally, Charlotte Tilbury, Fila, MCM, Michael Aram, Sean John, Rag & Bone, Ralph Lauren, Sachin + Babi, Swarovski, Zac Posen, and of course, Bloomingdale's. You'll have to head over to Charitybuzz to see the full lineup in all their glory, but to give you just a taste, I'll give you a look at a few of my favorites.
First up are the Swarovski gloves, which are crystallized in the most perfect pink ombre I've ever seen. There are 23,000 hand-applied crystals on the gloves, and the bold, powerful look is meant to represent the strength of cancer fighters and survivors.
Beauty fans will love Charlotte Tilbury's gloves, which mirror her makeup packaging's brown and gold aesthetic and are covered in little gold lipstick kisses. One glove has the words "Beauty is POWER" written boldly across, while the other bears the warning "Iron fist in a velvet glove."
The metallic Michael Aram gloves are serving me ultra-glam Tin Man, and I'm honestly so here for it. In reality, the delicate silver orchids represent everlasting beauty, strength, renewal, and the resilient spirit of those battling breast cancer.
And finally, these Sachin + Babi beaded gloves featuring red lips are the physical embodiment of the phrase "lover, not a fighter." It's important to keep in mind that Babi Ahuwalia was diagnosed with Stage 1 Breast Cancer, and completes her last treatments on Oct. 2. Think of this design as Ahuwalia's way of "kissing" cancer goodbye.
By raising money via the bids, it's Bloomingdale's goal to "knock out" breast cancer once and for all — or, at least, to give the BCRF the resources with which their incredible teams can hopefully do so. If you'd like to bid on a pair of these chic gloves for yourself, you can head to Charitybuzz today. To see the gloves in person, New Yorkers can head over to the Bloomingdale's 59th Street store, where they'll be on display on the arcade level.
While you're there, please note the Everlast punching bags placed throughout the store to represent the fight against cancer. What's more, you'll also see supersized boxing gloves DIY'd by Ghostly Ferns artist Jen Mussari on display, which you can feel free to Instagram as an excuse to tell your friends about the glove auction. If you're not in New York, you can still participate on Oct. 20, when Bloomingdale's locations will be treating shoppers to an in-store Everlast boxing class.