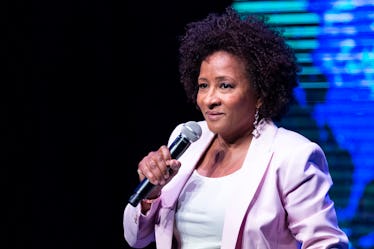 7 Celebrities Who Haven't Let Breast Cancer Stop Them From Achieving Amazing Things
Rich Polk/Getty Images Entertainment/Getty Images
A handful of national holidays sprinkle our calendars every year (National Donut day, National Taco Day, etc.), and even though a decent chunk are silly little celebrations that got their start on social media, there are a few key national causes that deserve to be celebrated in the name of bringing awareness to very real, life-threatening diseases. For example, the American Cancer Society founded October as National Breast Cancer Awareness Month in 1985 to raise awareness about a disease that affects so many women across the world. The fight is a brutal one, but breast cancer is treatable and beatable, and for those suffering, it's important to know there are so many celebrities with breast cancer who strive to live their lives to the absolute fullest in order to prove to others that there is beauty in the battle.
Celebrities may not be the superhuman ideals mainstream media would like to paint them as, but they certainly are role models with a significantly large platform that allows them to inspire others beyond the big screen. One in eight women born in the U.S. will develop breast cancer, and while the diagnosis can definitely be challenging, and it can feel as though you're alone in your struggle, these fierce female celebrities are here to show that you are never alone. Keeping the faith and holding on to your strengths are what can guide you through each and every battle.
Each of the following women have their fair share of scars, but have found beauty and grace through their struggles with breast cancer. You can overcome the disease, and these women are proof that you can, and will, prevail.