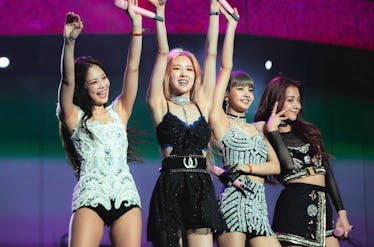 OMG, BLACKPINK's 'The Album' Tracklist Features A Surprise Cardi B Collab
Natt Lim/Getty Images Entertainment/Getty Images
Every time BLACKPINK releases new music, their fans do everything they can to promote it online. From sharing fancams and Spotify links, to trending hashtags on Twitter, BLINKS are unstoppable. Out of all their projects, fans have been anticipating the group's first full-length album the most. Finally, BLACKPINK's 2020 album is almost here and judging from all the teasers the group has shared so far, it's going to be amazing.
The last time fans got a collection of new songs from BLACKPINK was in April 2019 with their EP Kill This Love, so they can't wait for the group to make another return. A year-long break from releasing music may seem short in comparison to other artists, but for many K-Pop stars, it's it's actually quite long. Most K-Pop artists release two to three albums a year. So far, whenever BLACKPINK has made a comeback, they've released an EP, but fans have been craving a full-length album ever since they debuted in August 2016.
Their patience will be rewarded soon because YG Entertainment announced BLACKPINK will be releasing their first album, fittingly called The Album, on Oct. 2. Unlike the group's previous comebacks, where fans got a new single, EP, and music video all at once, YG revealed BLACKPINK's promotional schedule would come in three stages.
BLINKS, take notes because so much is happening. Here's everything you need to know about BLACKPINK's 2020 album release schedule.
BLACKPINK's The Album's Promotional Single "How You Like That"
On Monday, May 19, YG announced BLACKPINK's album will have 10 songs and fans will get their first taste with a pre-release single.
After weeks of waiting for it, fans received BLACKPINK's "How You Like That" on June 26, along with an epic music video that showcased powerful choreography and visuals.
BLACKPINK's The Album's Second Single "Ice Cream"
After dropping "How You Like That," BLACKPINK promised fans another snippet of their studio album would be coming this summer. "The second plan is to release the second single in a special format in either July or August," YG said.
Fans theorized the "special format" meant a collaboration. Initially, they thought it was going to feature Ariana Grande, but to fans' surprise, that collab turned out to be with Selena Gomez instead. The artists announced their single "Ice Cream" would arrive on Friday, Aug. 28. Right away, BLINKs and Selenators dubbed the iconic team up "SelPink."
The "Ice Cream" teaser photos gave off major Lisa Frank vibes, which made fans so excited to hear what the single was all about.
In the days leading up to their single's release, BLACKPINK and Gomez revealed they've been fans of each other for years, which is why working together made so much sense.
"We're really glad that you're on [the single], because, you know, we've been a big fan of yours for a long time," BLACKPINK gushed.
"I'm so stoked. I've been a fan of you guys, and so this is a big, big dream for me, and I can't wait," Gomez said.
BLACKPINK'S The Album Release Date
Finally, after a summer of singles and sneak peeks, fans will get BLACKPINK's first full-length album on Oct. 2. It will have 8 songs total, which means BLINKs will get eight new songs at once following the release of "Ice Cream" and "How You Like That."
BLACKPINK's The Album Tracklist
Just days before dropping their record, BLACKPINK gave fans their long-awaited tracklist on Monday, Sept. 28. Previously, when YG unveiled the album's cover, they blurred the song titles and names of featured collaborators, but fans still thought they spotted Cardi B's name in the mix. They may have not been right about the Ariana Grande collab, but they were spot on about the Cardi B feature. BLACKPINK's album tracklist revealed their song with the rapper is called "Bet You Wanna."
BLACKPINK's The Album Versions
Fans curious to know what they can expect from BLACKPINK's The Album will be happy to hear it'll come in four different versions. From the looks of their album preview, each one will have its own variation of goodies that'll follow either a black or pink theme. Although each edition will be different from the other three, they'll all include the following:
Package Box
Hardcover Photobook
Postcard Set
Credits Sheet
Lyrics Booklet
Two Random Photocards
Two Random Postcards
Random Sticker
Mounted Photocard
CD
How to Pre-Order BLACKPINK's The Album
Now that fans know everything BLACKPINK's album will bring, they must be wondering where they can get their hands on a physical copy. Luckily for them, it's now available to pre-order on YG Entertainment's official merchandise website, Amazon, Ktown4u, and the Universal Music Store.
BLINKS waited over a year for new music, and now they're getting spoiled with everything at once. Fans obviously love it and they can't wait to hear everything BLACKPINK has to offer.
This article was originally published on