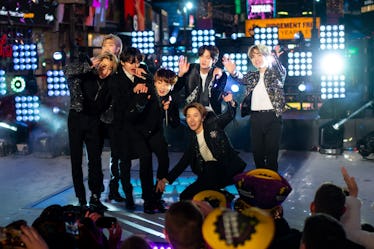 BTS Added 3 Major Artists To Their New Year's Concert ARMYs Won't Want To Miss
Michael Stewart/WireImage/Getty Images
If you're a K-Pop fan looking for something to watch on New Year's Eve, look no further because Big Hit Entertainment is throwing a huge party that will bring many of your favorite artists together under one roof. The concert will be online, so everyone around the world can watch no matter where they're from. Trust me, you won't want to miss it. Big Hit's New Year's Eve live concert lineup includes artists like BTS, TXT, and ENHYPEN, as well as a few special guests.
The company announced the event on Nov. 10 through Weverse, revealing it will take place on Thursday, Dec. 31 at 9:30 p.m. KST (7:30 a.m. ET) at the KINTEX Exhibition Center in Korea, marking their first concert to feature artists under Big Hit Labels together. Fans were happy to see ENHYPEN and Pledis Entertainment's NU'EST as part of the first lineup.
ENHYPEN just formed on the reality competition show I-Land in September and made their debut on Nov. 30, which means the New Year's Eve concert will be one of their first performances as a group.
TXT and Source Music's GFRIEND were then added to the roster for the second lineup. TXT recently made their comeback with their EP Minisode1: Blue Hour on Oct. 26, while GFRIEND dropped their latest album 回: Walpurgis Night on Nov. 9, so fans can likely expect to hear their new songs at the concert.
Meanwhile, Lee Hyun, BTS, and Pledis Entertainment's BUMZU were announced as the final additions to the lineup. Fans are hoping they'll hear BTS perform "Life Goes On" and "Dynamite" from their BE album at the concert.
Fans thought that was everyone on the roster, but then Big Hit made a surprise announcement: There will be special guests. On Tuesday, Dec. 8, the company revealed Halsey, Lauv, and Steve Aoki will have have special performances throughout the night. All three artists have worked with BTS before, so fans expect the group to perform their collaborations together on stage.
Although BTS has several songs with each of them, ARMYs think it's most likely they'll perform "Boy With Luv" with Halsey, the "Make It Right" remix with Lauv, and "MIC Drop" with Steve Aoki.
There was originally going to be limited seating for the in-person event of the concert, but then Big Hit canceled it due to COVID-19. Fans had a feeling the news was coming, so they're not too disappointed (it's better for everyone's safety, after all). They know the show is going to be amazing, and they can't wait to find out the setlist.
Let the countdown to Big Hit's New Year's Eve live concert begin!
This article was originally published on