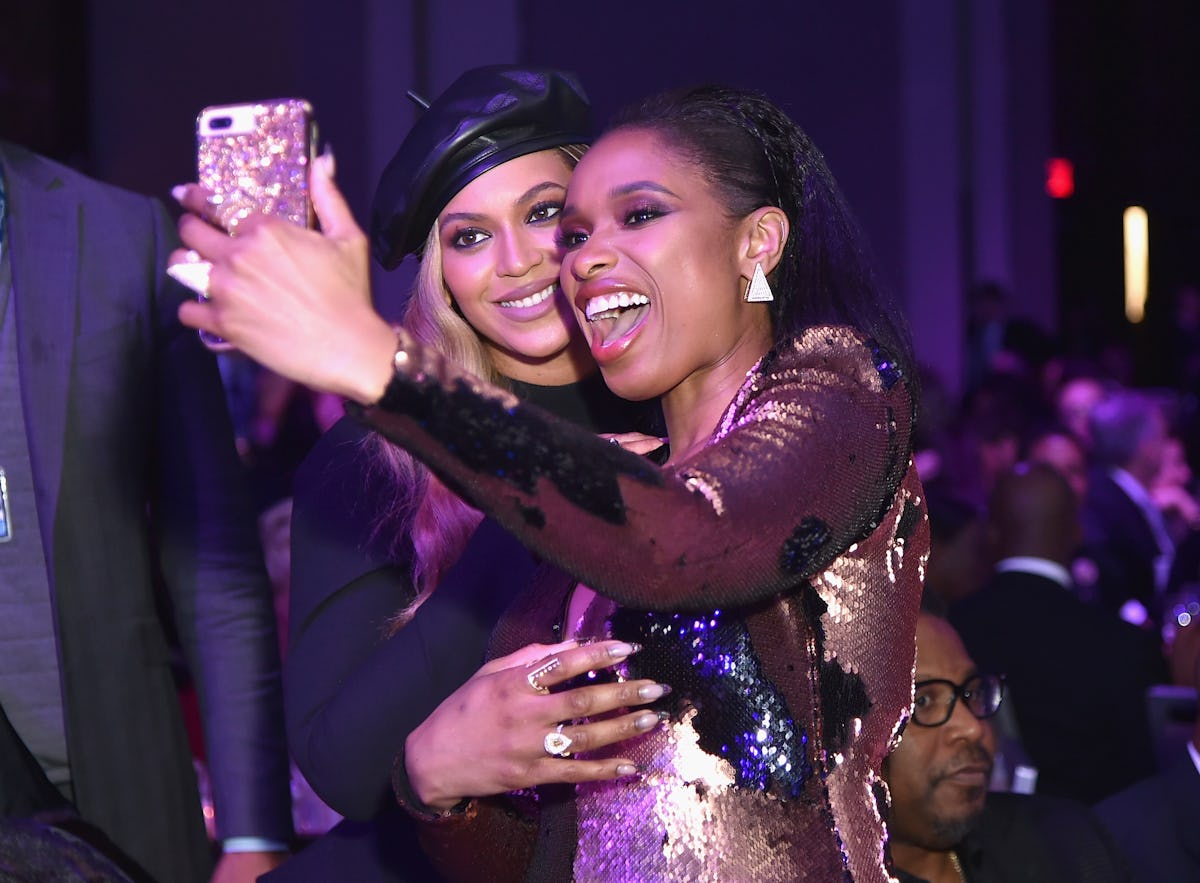 Beyonce Wore A $12 Glow Lotion All Grammy Weekend Long & I Love It Like XO
Mike Coppola/Getty Images Entertainment/Getty Images
Anytime Beyoncé makes a public appearance or posts a new photo online, I am nearly brought to tears by her devastating beauty. In my eyes, Queen Bey can do no wrong, but sometimes she does something extra right. Beyonce's makeup at the Grammys was actually cheap AF (every product was under $30), so I'm falling even more drunk in love with her.
Beyoncé opted out of making a red carpet appearance at last night's Grammys — Chrissy Teigen's red carpet look stole the show instead. But Bey took back the spotlight with her Black Panther-inspired look later on in the night. Beyoncé's giant hat caused quite a Twitter storm, her earrings were physically bigger than my bank account, and all in all, Bey came to slay.
Beyoncé's custom designed Nicolas Jebran gown and hat actually weren't the star of the show for long, though. The world soon learned that Queen Bey, literal billionaire, was wearing cheap AF makeup and collectively lost its sh*t. I imagine that Beyoncé has dozens of minions running around constantly finding her the best of the best for everything from diamonds to toilet paper, maybe even diamond toilet paper. So when I found out that the Mother of Blue Ivy, First of her Name, Creator of Lemonade, picked beauty products that I could actually afford to buy, I had to find out exactly what products she used and of course share them with my beloved readers. OK ladies, now let's get beautified.
That beauty look, it's ***flawless. The best part? You and I can actually get it! Beyoncé's makeup artist, Sir John, broke down what products he used on the queen and how to achieve her look.
Glossier Perfecting Skin Tint
$26, Glossier
Sir John used three different shades of the Glossier liquid foundation (Dark, Deep, and Rich) to create a contouring effect on Queen Bey. "I wanted her skin to look flawless but not overdone," says the makeup artist.
L'Oréal Paris True Match Lumi Glotion
$12, Target
Sir John finished Beyoncé's complexion with this illuminating cream that you can get at Target for $12. Maybe this is what she bought when Bey went on that Target run.
Glossier Cloud Paint in Beam
$18, Glossier
"I'm loving a coral blush at the moment as it really brightens up the complexion," Sir John explains. This creamy blush works on basically every skin tone, and Beyoncé's makeup artist says he likes it so that's really all you need in life.
Glossier Cloud Paint in Haze
$18, Glossier
OK well you need this too because Sir John also used this darker blush. The beauty connoisseur used it on the darker, contoured areas of Bey's heavenly skin for "extra dimension."
Glossier Boy Brow in Brown
$16, Glossier
Bey was wearing sunglasses throughout the Grammys so Sir John wanted her brows to look "super strong" by using this particular brow gel.
Bey wore Glossier makeup throughout Grammy weekend; many of the same products were used for this look at the Roc Nation's pre-Grammys brunch, including her eye makeup. These products haven't been released yet, though! Beyoncé probably easily got her hands on these shimmery goods, but the rest of the world will have to wait a little bit longer. Sir John did say that he "LOVED using it on Bey all weekend."
L'Oréal Paris
$10, Ulta
Sir John did divulge that he used this $10 mascara on Queen Bey's lashes and I'm legit shook that it's so affordable.
YSL Tatouage Coutoure Lip Stain in 27 Carmine Encounter
$36, YSL Beauty
Bey's lips were the most expensive element of her look: Sir John created a custom lip color by blending two different YSL lip stains.
YSL Tatouage Coutoure Lip Stain in 19 Fuchsia Intime
$36, YSL Beauty
He mixed the darker colored lip stain with this fuchsia color to "offset the soft fresh cheeks and eyes perfectly." To be honest, I probably wouldn't have been able to handle it if Bey's look was created using only less expensive products, so I'll allow her this $72 lip look.
Glossier Body Hero Daily Perfecting Cream
$22, Glossier
Sir John finished Bey's look with the most relatable product: lotion. The maestro used this moisturizer to hydrate Bey's skin and give it a "luminous glow all over." Glow, she did.
Beyoncé has always been #goals, but now those goals are achievable. Amen.