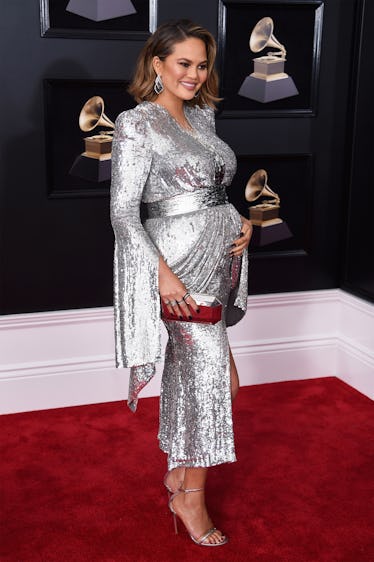 Chrissy Teigen Is Literally Glowing At The Grammys & We're So Here For It
Dimitrios Kambouris/Getty Images Entertainment/Getty Images
The Grammy Awards are being held in New York City for the first time since 2003, and I'd like to personally thank Chrissy Teigen for flying to my neck of the woods to attend. Chrissy Teigen's 2018 Grammy's Red Carpet Look is a magical sequined universe.
Teigen is one of the few non-musical Grammy guests that I actually get excited to see each year. Teigen's husband is a musical, well, legend (John Legend), and Teigen supports her man at all the fabulous events. Attending such an event, Teigen must have to put herself through a professional hair and makeup session and must pick out a dream red carpet gown — what a sacrifice.
It actually may be a bit more of a project for the model this year because Teigen is pregnant with her second child. Teigen's insanely adorable first daughter, Luna, will soon become a big sister, and while I wait to see the beautiful baby, I will admire Teigen's red carpet maternity wardrobe. Teigen had some practice attending such high-profile events while pregnant with her first baby, so it comes as no surprise to me that she is looking just as fantastic this time around. See photos of Teigen's 2018 Grammys look below!
Disco Chic
Teigen's long-sleeved Yanina Couture dress is completely covered in silver sequins and I think it comes from heaven. The gown features a wide belt at the waist and glorious, draping details that accentuate Teigen's beautiful curves and pregnant belly. A thigh-high split goes up the center of the dress and Teigen is working it. The comedic model paired the dress with silver ombré statement earrings and a few simple silver rings. The dress itself is basically one giant diamond though, so even with no jewelry at all, Teigen would still look like the true gem that she is.
Legend is wearing a shiny navy blue tuxedo, a departure from the typical black suits seen on red carpets. Legend is the musical ticket to the Grammys but Teigen is low-key stealing his thunder, in my humble opinion.
Teigen's hair looked phenomenal as well. The mom-to-be tapped her hairstylist-turned-BFF Jen Atkin to prep her for the event. Teigen used Atkin's own line of products, Ouai, to get the look. Ouai Volume Spray ($26; ouai.com) and Ouai Wave Spray ($26; ouai.com) give her hair good shape and volume. Ouai's Texturizing Hair Spray ($26; ouai.com) finished off the look and held it all in place. Oh and a Dyson Supersonic Hairdryer ($400; dyson.com) which is coincidentally my dream hair dryer and it proves that Teigen is living my best life.
Teigen also posted to Instagram to show how she gets ready for the event. You'd think it would be all glam spa treatments and makeup sessions but, spoiler alert, it involves eating McDonald's! The post is a sponsored ad but Teigen is known for her love of fast food, so I'd like to think that she actually ate those McDonald's fries.
Golden Goddess
"Had such a wonderful time at Clive's pre-Grammy party! I must thank my dear friends who I pay but they're still very good friends @jenatkinhair, @maryphillips And @monicarosestyle. I love you guys. Thank you for making me feel good which is more important than looking good but let's face it, both are nice. Thank you thank you @jonathansimkhai for creating such a beautiful dress for me and baby. It was such an honor to work with you. ❤️" Teigen posted to Instagram.
Teigen was her ever-entertaining self while gushing about her Jonathan Simkhai gown. The dress is long-sleeved, off-the-shoulder metallic creation and it beautifully highlights the star's growing baby bump.
Couple goals alert! A side view of Teigen's Jonathan Simkhai gown shows off the sheer sleeves and floor-length skirt. Her glitzy diamond earrings are hard to miss as well.
"...and thank you to Johnny. I wouldn't be here without you. Or I would because I'd be dating or married to someone similar. But I am happy to be here with you. I love you," Teigen joked in another post. Legend also looked snazzy AF in his black tux on the red carpet. And you can't miss this video of him walking daughter Luna down the stairs — family goals!