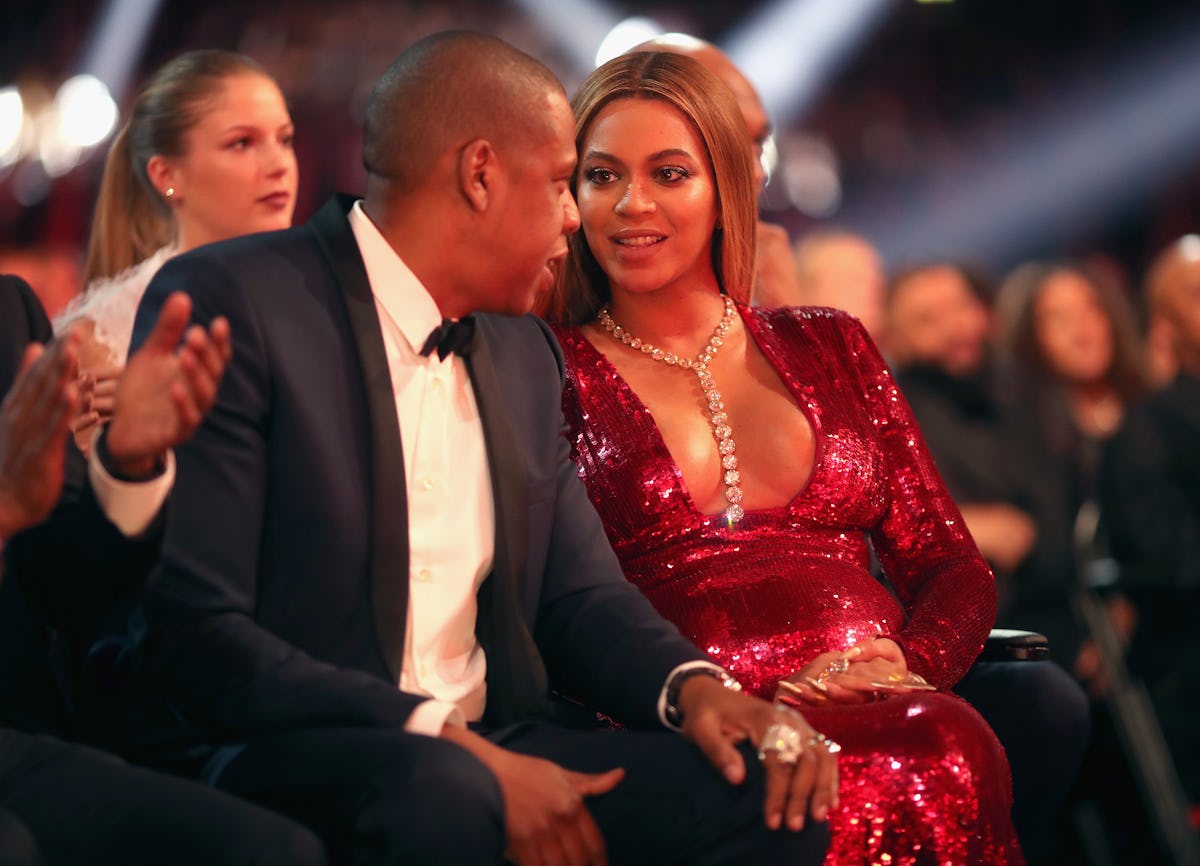 Beyoncé Shared BTS Pics From "Family Feud" On Instagram & They're So Intimate
Christopher Polk/Getty Images Entertainment/Getty Images
They're pop-culture royalty, their talent is unreal, and they're inarguably the most beautiful humans to grace our planet. If you're thinking that I'm referring to none other than the Knowles-Carter fam', then you've guessed correctly. On JAY-Z's newest album, 4:44, you've probably already heard his most prominent song, "Family Feud" (he just released a music video for it). Since we're talking about the Knowles-Carters, you could probably imagine that the behind-the-scenes footage from the vid is absolutely stunning, and Beyonce's behind the scenes Instagram photos from "Family Feud" prove that it definitely is.
On Friday, Dec. 29, the legendary rap artist JAY-Z officially released his music video for "Family Feud" through his signature streaming service, TIDAL. Based on a hint released from Roc Nation on Dec. 28, we all knew Beyonce and Blue Ivy were going to co-star in it (which honestly kept us on the edge of our seats), but we didn't know exactly what to expect. In addition to a zillion celeb cameos — from stars such as Thandie Newton, Michael B. Jordan, Mindy Kaling, and Jessica Chastain — Queen Bey looked like a badass goddess in too many gorgeous dresses to count, and Blue was done up and looked beyond-adorable. The Knowles-Carter ladies are freaking stunning, and they honestly looked regal AF.
In the lyrics of the song, Jay-Z confesses his infidelity (we're looking at you, Becky,) to 'yonce in a church, which seemed to be an apology to Queen Bey. Many speculate that it was essentially a response to Beyonce's famous song "Lemonade" from her goddamn amazing 2016 album, Lemonade — and although all of us were pretty upset upon learning about his irreparable mistake, JAY-Z's apology was fantastic. In the video, during his grand apology, Blue innocently listens to JAY-Z in the pews. And though it was heart-breaking, it was simultaneously empowering and beautiful for everyone involved. As the emotionally unprepared viewer, I would just like to warn future to prepare yourselves, I am basically still sobbing.
Queen Bey's outfits throughout the video are unreal, so there's no question as to why Bey snagged some sweet snapshots for Insta. When she was standing at the altar, she wore a sexy-as-heck dark blue dress with a matching clerical head-dress and black corset. She also donned a shorter LBD with a long white billowing cape with a train, almost resembling angel wings. Bey looked like a boss, so it we clearly know why she 'grammed some of her "Family Feud" fashion afterwards.
Other photos Bey posted from the video feature Blue Ivy and JAY-Z talking, laughing and lovingly dancing among the church pews, as Blue wore a super cute white fur-trimmed dress. Jay also looked classy AF and fashionable wearing an unforgettable black suit, and we seriously fell in love with him all over again. Other than the fact that both of them looked absolutely breathtaking, the moments captured were heart-warming.
If you haven't already had the chance to catch the video for "Family Feud" on TIDAL, make it your next mission. Jay expresses all of the remorse we still kind of needed after the whole "Becky" incident, and he clearly loves Bey so, so much. The behind-the-scenes pics on Bey's IG are also beautiful, and they show how strong the Knowles-Carter family has been while overcoming major issues expressed in Beyonce's "Lemonade," and expressing so much love for each other. And, not only did it make for the best Insta pics, but they also totally make me wish I was in the Knowles-Carter family... because honestly, who wouldn't wish for that?
Check out the entire Gen Why series and other videos on Facebook and the Bustle app across Apple TV, Roku, and Amazon Fire TV.