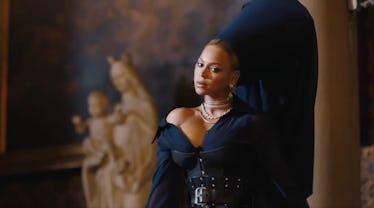 JAY-Z's New "Family Feud" Video Is Only On Tidal & Twitter Isn't Having It
TIDAL
JAY-Z's music video for "Family Feud" officially dropped on Friday, Dec. 29, but uh, you might be totally oblivious about it if you don't happen to have access to a very, very exclusive (and, ahem, not free) streaming service called Tidal. Yes, really, all eight minutes of JAY-Z's new video are only available for viewing on Tidal — not YouTube, not Spotify, not iTunes, nada. If you're more than a little annoyed about this, tweets about Tidal after JAY-Z's "Family Feud" video drop might make you feel better because, for real, we are all in the same boat here.
Now, I'll level with you guys: The only reason I'm even able to watch the "Family Feud" music video at all is because I snagged a 12-day free trial by signing up with my email address. So, that means I have 12 glorious, uninterrupted days to watch and re-watch the freaking amazing cinematography that is "Family Feud." But after that, I'm on the same playing field as the rest of the plebs who refuse (and probably with good reason) to sign up for an actual Tidal subscription.
Look, JAY-Z, I love your music, I really do. But the holiday season is finally coming to a close, and my wallet has taken the beating of all beatings this year. I hardly have enough money to buy more tissues to wipe away the tears that are streaming down my face thanks to your heart-wrenchingly powerful lyrics, let alone money for a $9.99 monthly subscription to Tidal.
And yeah, Twitter is most definitely with me on that one, JAY.
My heart bleeds for these poor unfortunate souls, who apparently lost their Tidal subscription with the absolute worst timing in the world:
Still, as annoyed as most of us are by having to pay actual money out of our actual bank accounts to enjoy JAY-Z's latest work of art, some people think the subscription is totally worth the money for what you get in return:
Some swear by the streaming service not just because of the incredible artistry of "Family Feud," but because of all the amazing music videos to come from 4:44 that are available to stream on Tidal.
Others are only doing it "for Ava" — as in Ava DuVernay, the incredibly talented director of the "Family Feud" music video:
Yes, yes, we're all tired of creating fake email addresses over and over to sign up again and again for Tidal. BUT SERIOUSLY, DO IT FOR AVA. DO IT FOR JAY. DAMMIT, DO IT FOR BEYONCÉ!
Of course, whenever the masses get mad about something together, there always emerges a hero to quiet the crowd and save us all from losing our sh*t. Bless you, @_DonBighead, because at least you tried to spread the beauty of the "Family Feud" music video to anyone who doesn't have access to Tidal:
A for effort, A for effort.
If you, too, sneakily got your hands on that temporary Tidal subscription, then you don't need me to tell you how freaking good the video is.
And even if you only have access to that one measly, 30-second teaser that Roc Nation tweeted out on Dec. 28, just know that you're still blessed AF to have the privilege of witnessing such cinematographic magic.
In the teaser alone, we see JAY-Z walking hand-in-hand with his and Beyoncé's adorable daughter Blue Ivy through the pews of a church. The video cuts to quick flashes of JAY in a confessional booth with Bey on the other side of him, serving some serious face and sending all the chills down our spines. Seriously, based on how intense the teaser is on its own, can you even imagine how soul-shattering the actual, full music video is?!
Well, I guess you'll just have to download and subscribe to Tidal to find out. Sorry, y'all.