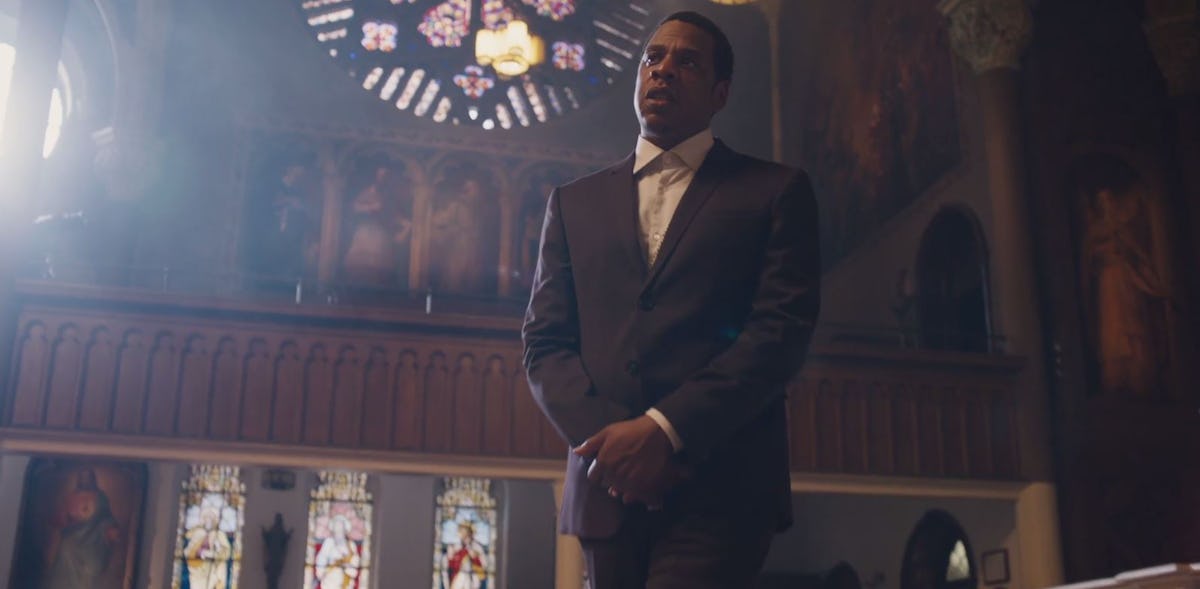 All The Celebrities In JAY-Z's "Family Feud" Video Make It A Real Family Affair
We're finally going to hear what JAY-Z has to say, as his music video for "Family Feud" is out on TIDAL now. What a way to start off the weekend! It truly is a family affair as the video features a number of celebrities. We already know it is the one record off of JAY-Z's new album, 4:44, to feature Beyonce, and we got a glimpse of this from the teaser that was released on Thursday. Now, we have a chance to find out all the celebrities in JAY-Z's "Family Feud" video. So, get your TIDAL login ready and get the popcorn ready, because we're about to see who's been invited to the "Family Feud."
The almost eight-minute long video features some big names in Hollywood, proving that JAY-Z and Oscar-Nominated director Ava DuVernay really pulled out all the stops for this one. And let me tell you, it really is epic.
The video for "Family Feud" opens up with a series of scenes from the future, documenting the importance of family over everything. It seems like JAY-Z is sending out an extremely important message to us all, so make sure you watch it very carefully, or you may miss something.
In 2444
The video begins in the year 2444, where we see Michael B. Jordan who catches Thandie Newton in bed with Trevante Rhodes. It's basically like a who's who in Hollywood, and we've only just begun. The fight that breaks from this scene leads us to Oscar-nominated Jessica Chastain having a meeting with Irene Bedard and Omari Hardwick.
You would think that would be enough star power needed to make a great music video to impress the masses, but JAY-Z kept it going. Hardwick's character then goes into the history of his family's legacy in the story. And here we go for more notable celebrities.
In 2148
We end up in a futuristic, planetarium-looking building with Golden Globe-nominated David Oyelowo. Oyelowo sees a "disturbance in the peace," which feels like a nod to Star Wars where there was a "disturbance in the force," but we've just got The Last Jedi on the brain. Hardwick's voice over continues to tell us that his "family has fought for the law."
In 2096
In this futuristic year, we see a battle with warriors charging and aiming their weapons. This is a quick scene, but you'll get to see Storm Reid (A Wrinkle In Time) and Henry Sanders (Rocky Balboa).
In 2050
Now we get to the biggest star-studded scene in the video. Honestly, we'd like to be in the room with every single one of these incredible actresses. Sitting around the table we have Emayatzy Corinealdi, America Ferrera, Oscar-winner Brie Larson, Rosario Dawson, Rashida Jones, Mindy Kaling, Constance Wu, Niecy Nash, Susan Kelechi Watson, and Janet Mock.
Get us a seat at this table, please. We find out the leader at the head of the table is none other than and older version of Blue Ivy.
In 2018
We finally get to the present time where we see JAY-Z drop off real-life Blue Ivy at a pew in a church. This is when the song begins, and we get to see JAY-Z and Queen Bey. We'd like to be a part of Roc Nation if it means we get to be surrounded by big names like the ones in "Family Feud."
In my personal opinion, this video is on par with Beyonce's "Formation" video and Taylor Swift's "Bad Blood" in regards to star power, and I wouldn't expect anything less. Now, excuse me while I go make some more popcorn and watch the video like 20 more times.