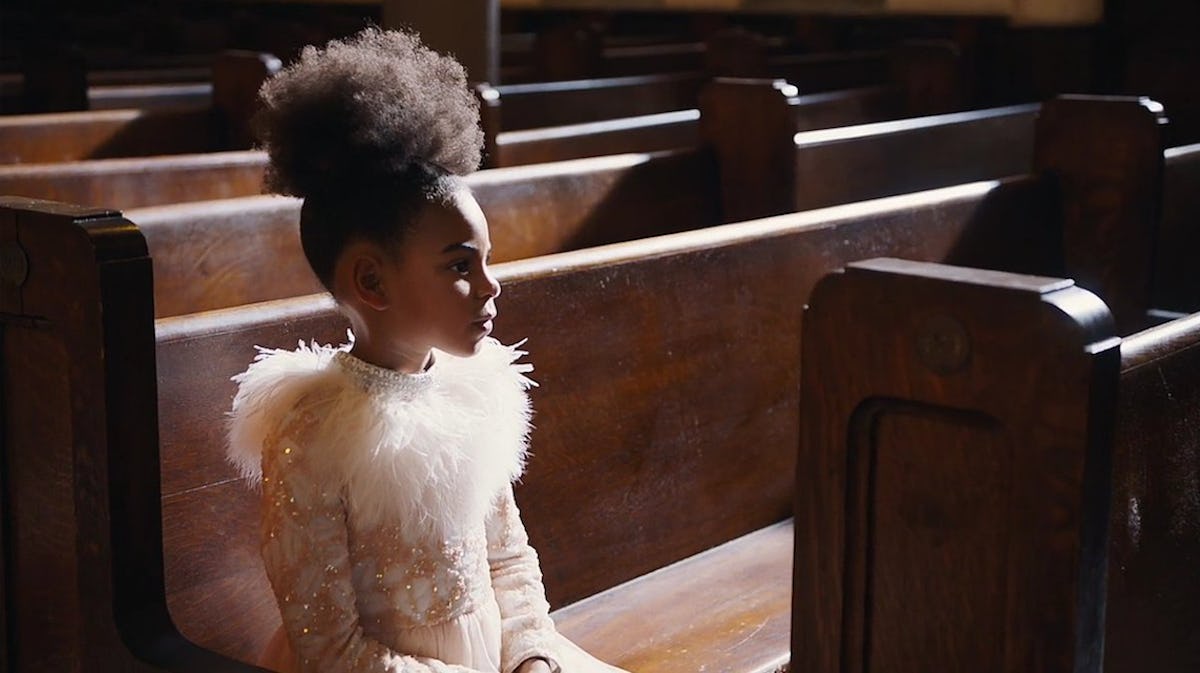 Everyone Is Obsessed With Blue Ivy In JAY-Z's New Music Video For "Family Feud"
JAY-Z dropped the music video for his song "Family Feud" off his album 4:44 today at (when else?) 4:44 p.m. The sweeping video, directed by Ava DuVernay, combines themes of politics, religion, power, and infidelity into a gorgeous masterpiece that makes the Carter family look like the Corleone family of the future. But as she usually does, Blue Ivy stole the show. The tweets about Blue Ivy in JAY-Z's music video "Family Feud" prove once and for all that she's the real MVP here.
You can watch the music video on JAY-Z's streaming service TIDAL. Don't have an account? Hot tip: you can get a free trial with your email address. If you've already burnt through your free trial, you can create a fake email (sorry, Jay).
The video takes place throughout various times and places in the future. The first time viewers see Blue Ivy, it's easy to miss her. Why? Because she's played by a different actress. One of the most powerful scenes in "Family Feud" is set in the year 2050. An adult version of Blue Ivy, played by This Is Us actress Susan Kelechi Watson, is the president — or as she's called here, one of the founding mothers. She holds a meeting exclusively attended by female politicians played by the likes of Mindy Kaling, Janet Mock, and Rashida Jones, to debate what to do about the Second Amendment. Their goal is to reshape America, or to "make it great again" (that's an actual quote, and yes, it's surely a Trump reference).
Soon after, a young Blue Ivy (played by herself) appears in church. Both young and adult versions of Blue Ivy wear matching white dresses with feathered necklines. This casting is so good.
The scene inspired a lot of people to come to the same conclusion: if Blue Ivy isn't president by 2050, something will be seriously wrong with the world. #BLUEIVYFORPRESIDENT.
For the record, Blue Ivy will be eligible to run for president as soon as 2047, so the possibility of her sitting in the White House in 2050 is actually not that far-fetched.
Can we take a sec to appreciate how ridiculously cute Blue looks in this music video? She looks like a pint-sized angel on earth, and people really noticed.
Ugh. What a super cute kid.
Blue Ivy turns six years old on January 7, and despite her age, she's already a pretty accomplished performer. When she's not wearing custom Gucci to award shows, she's apparently working on her entertainment chops. On Twitter, users were praising her ability as a young actress. It makes sense — she's grown up with two of the greatest creative minds in the world as parents. (Some people have all the luck, right?)
Blue Ivy was the only Carter child to make an appearance in "Family Feud." Sir and Rumi are probably still too young. But if Blue Ivy's roles in the music videos on both JAY-Z's 4:44 and Beyoncé's Lemonade are any indication, it wouldn't be surprising to see the twins featured in an upcoming music video off a future album one day.
Look, there's a whole lot to unpack in the "Family Feud" music video, from the shady Trump reference, to the James Baldwin quote at the beginning, to the Godfather references, to the dozens of amazing celebrity cameos (this video is basically like a game of Where's Waldo? for famous people). But despite all the flashy elements and insane casting moments, little Blue Ivy certainly held her own. We wouldn't expect anything less from JAY-Z and Beyoncé's child, would we? As "Family Feud" makes clear, family is everything.