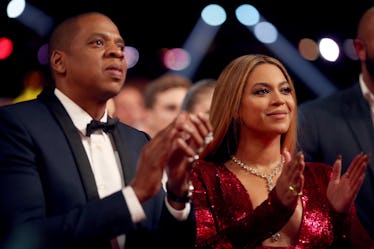 Trump References In JAY-Z's "Family Feud" Are Making People Lose It On Twitter
Christopher Polk/Getty Images Entertainment/Getty Images
First of all, I'd like to start out this post by saying that Michael B. Jordan is in JAY-Z's "Family Feud" music video, and that's really the only reason you need to open up Tidal and check it out, like, right now. But if that still doesn't interest you, Twitter is abuzz over something else. If you're interested in sitting back, relaxing, and watching some beef play out, there are some serious Trump references in JAY-Z's "Family Feud," and you need to brace yourself for this one because it's about to get heated.
"Family Feud" opens with a world in the future — one entirely reorganized and restructured by women. The current American president is being interviewed, and describes how 444 years ago, in the year 2050, a group of women came together to rewrite the entire American constitution. These women, he says, are known as the "Founding Mothers," and in addition to rewriting the constitution, also wrote something called the "Confessional Papers," which changed the course of American history for decades to come. But if you think about it, 2050 isn't really that far away. If Trump wins a second term, he's not going to be out of the White House until 2025, and if things keep going the way they're going now, it's safe to assume there will be a lot of cleaning up to do after he's gone... like in 2050.
The group of women in 2050 are shown discussing plans to revise each amendment, and are played by Mindy Kaling, Constance Wu, Janet Mock, and Niecy Nash, just to name a few. It's unclear who each of the famous actresses are representing in the scene, but we're clear on one of the world leaders in particular, a grown-up version of Bey and JAY's daughter Blue Ivy herself, played by Susan Kelechi Watson, most recently from This Is Us.
A grown up Blue and the rest of the founding mothers set out to fix what's really wrong with America. But here's the kicker: As the camera pans to the Founding Mothers revising the American constitution, the president from the future describing the mothers deals a huge blow to President Donald Trump. He says, this constitutional rewrite happened at a pivotal time, one where Americans were actually encouraged to hate each other. He says,
At a time, mind you, when some thought that making America great meant making us afraid of each other.
This is obviously a nod to Trump's campaign slogan, "Make America Great Again," which has received tons of criticism for speculation on what Trump actually meant. Less than 100 years ago, black Americans were still unequal in the eyes of American law through the Jim Crow laws and, of course, before that, were not even seen as men and women under the legal practice of slavery. So what America, exactly, is Trump trying to go back to?
Naturally, Twitter Users Caught The Reference & Shared Their Thoughts
Twitter loved that the jab was just strong enough to be noticed, yet subtle enough to have an effect without totally making MAGA supporters freak out.
However, Some Were A Bit Confused In General As To What Was Going On...
Some Pointed Out How The Highly Contested Second Amendment Issue Still Hasn't Been Solved In 2050
If JAY and Bey have their predictions right (and honestly, who else would we trust more to see the future?), America could still be debating gun control for years to come. I have four words: women to the rescue.
Ultimately, "Family Feud" Seems To Have A Message Of Unity
Blue Ivy For Prez
One thing's for sure, no matter what the future holds, Blue Ivy sure has some high expectations set upon her by her parents. I mean, in her acting debut, she's already playing one of the Founding Mothers, which is kind of a lot of pressure. Regardless, I'm here for the #BlueIvyForPresident hashtag. Oh Twitter, you always know how to make us smile.