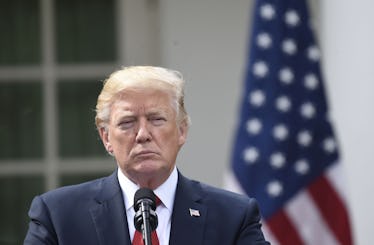 Donald Trump Is Selling Pumpkin MAGA Hats & Twitter Is Having A Field Day
SAUL LOEB/AFP/Getty Images
Halloween is just around the corner, and the Trump administration is celebrating by selling some very ~spooooky~ merchandise. Unfortunately, said merchandise is a bright orange pumpkin MAGA hat, and you really have to wonder if these people are just asking for trolling. Twitter roasted Donald Trump's Halloween MAGA hat very, very hard, and it was kind of the best thing on the internet today.
Trump's Halloween-edition hat line, which is currently being sold for $45 on the president's official website, sports an embroidered jack o'lantern on the front, and the words "Make America Great Again" stamped on the back. And it's orange — so very, very orange. Which would all be fine and good, if it did not completely play into one of the most popular Trump jokes out there.
The president has a very orangish hue to his face. I will say, with a decent amount of confidence, that it is the result of an overdone spray tan. And, perhaps, the distinct desire to resemble a tangerine. Or a Cheeto. Really, the list of food jokes goes on and on.
But don't just take it from me. Jason Kelly, a makeup artist who worked at the 2016 Republican National Convention, told Harper's Bazaar,
I know exactly what he does to himself — the tanning bed, the spray tan, he wears the goggles and you can see the hyper-pigmentation around his eyes.
So, apparently the Trump family is either blissfully unaware of the whole "Donald Trump Is Orange" joke, or could literally care less, because daughter-in-law Lara Trump gleefully posted a picture of herself sporting the hat on Twitter on Oct. 23. Please also note the painting of her father-in-law featured prominently in the background.
It didn't take long for Twitter to pick up on the whole Donald Trump is selling a pumpkin hat thing.
Samantha Bee kicked it off.
Many were quick to draw comparisons between the hat and Trump's face.
Others did not think it was the best marketing opportunity.
A few more creative souls had some helpful modification suggestions...
...and then there was the Twitter user who completely lost her appetite for the holiday altogether.
Should Trump realize the irony of the whole pumpkin hat situation, and suddenly have a hankering to de-orange himself — there's definitely a way. It just might take a little while.
Last January, Vanity Fair interviewed makeup artist Victoria Stiles on the best options for Trump to get rid of that pumpkin hue. She explained,
It will take an entire weekend to wash and remove the orange, so he would need to plan accordingly. Twice a day on Saturday and on Sunday, he should take Arm & Hammer Baking Soda and fresh lemon juice — both lightening agents — and mix in a bowl 'til it resembles baby food. Using his little hands, he should apply this cleansing salve all over his face and let it set for 10 minutes. Rinse and repeat, morning and night. If he follows my instructions, it will lift the orange to reveal his actual skin tone.
Both hilarious and informative. If Trump does choose to follow Stiles' instructions, he can avoid a whole lot of jokes at his expense. You know, like this jab from Marco Rubio during a campaign event in Feb. 2016:
So he put out a picture of me having makeup put on me at the debate. Which is amazing to me, that the guy with the worst spray tan in America is attacking me for putting on makeup.
Or that time that Jon Stewart called him a "decomposing jack-o-lantern." Or that other time that Trevor Noah described him as "butternut squash who wished on a shooting star and became a real boy." Oh, and that other, other time when Stephen Colbert called him an "angry creamsicle."
I get it, spray tans can be very cute and give you a nice glow. But if you're going to publicly own the whole orange look, maybe don't sell a hat with the same exact hue. In the meantime, though, thanks for all the internet laughs.