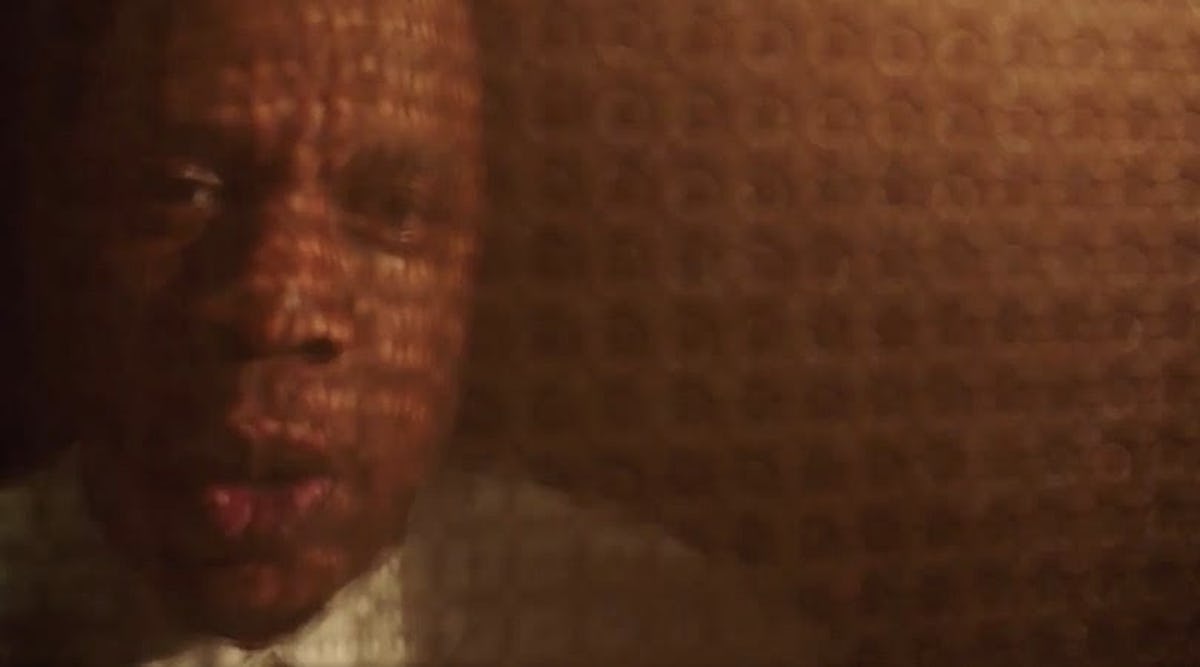 The Confessional Scene In "Family Feud" Says So Much About JAY-Z & Beyoncé
Tidal
What a time to be alive: JAY-Z dropped his new music video for his song "Family Feud" and let me tell you, it will make you feel things. While it's been said that the song symbolizes and addresses issues within the black community and the hope to try and find unity, it's hard NOT to think that JAY-Z didn't insert some of his own personal struggles based off the lyrics. And let's be real: nearly everyone's jaw dropped when the confessional scene in "Family Feud" played out, because not only is it a damn masterpiece, but it's also incredibly telling of JAY-Z and Beyoncé's personal relationship.
When Roc Nation posted the trailer for "Family Feud" on Dec. 28, we had a sensory overload watching it. We witnessed a sorrowful-looking JAY-Z with his daughter, Blue Ivy walking into church, and a scornful-looking Beyoncé looking glamorous AF in an all-black getup reminiscent of a sassy-looking Pope, and we saw clips of a man and a woman getting ~intimate~, only to then see the woman stabbing the man in the back.
But wait, there's more.
The teaser then gave us a truly intense scene: JAY-Z entering a confessional booth, with Beyoncé as his confessional priest. And when we saw the full video, this portion of the story is clearly the most poignant. In the full video, JAY-Z raps his lyrics while sitting in the confessional booth, with his wife listening on the other side, looking fine.
Watch the teaser below and tell me you don't agree:
And when the video dropped, it was all made VERY evident:
Fans were quick to pick up on the reference:
Others just had jokes:
But seriously, Beyoncé is everything and we are blessed that she is featured in this video.
We're pretty sure that JAY-Z's album, 4:44, is a response to Beyoncé's album, Lemonade, and the fact that the "Family Feud" video seems to be addressing the allegations that JAY-Z cheated head-on is as good a proof as any.
And, because JAY-Z was very candid in an interview with The New York Times' T Magazine about how he was unfaithful to Beyoncé, it seems as though "Family Feud" is almost acting as JAY-Z's own confessional. He said,
You have to survive. So you go into survival mode, and when you go into survival mode what happen? You shut down all emotions. So even with women, you gonna shut down emotionally, so you can't connect ... it's, it's deep. And then all the things happen from there: infidelity ... You know, most people walk away, and like divorce rate is like 50 percent or something 'cause most people can't see themselves. The hardest thing is seeing pain on someone's face that you caused, and then have to deal with yourself ... So, you know, most people don't want to do that. You don't want to look inside yourself ... And so you walk away.
He also spoke about how the two spent a lot of time in the studio together after the ordeal. He said,
We were using our art almost like a therapy session. And we started making music together. And then the music she was making at that time was further along. So her album came out as opposed to the joint album that we were working on. Um, we still have a lot of that music. And this is what it became. There was never a point where it was like, "I'm making this album." I was right there the entire time.
Can we all just applaud the fact that instead of seeing these two split, they are working through their issues? And literally made music videos as a form of healing? They are Hollywood royalty and are showing the world that they are the epitome of #relationshipgoals.
And let's give it up to the real MVP: the priestess, the one and only Queen Bey:
Beyoncé is LIFE. That is all.