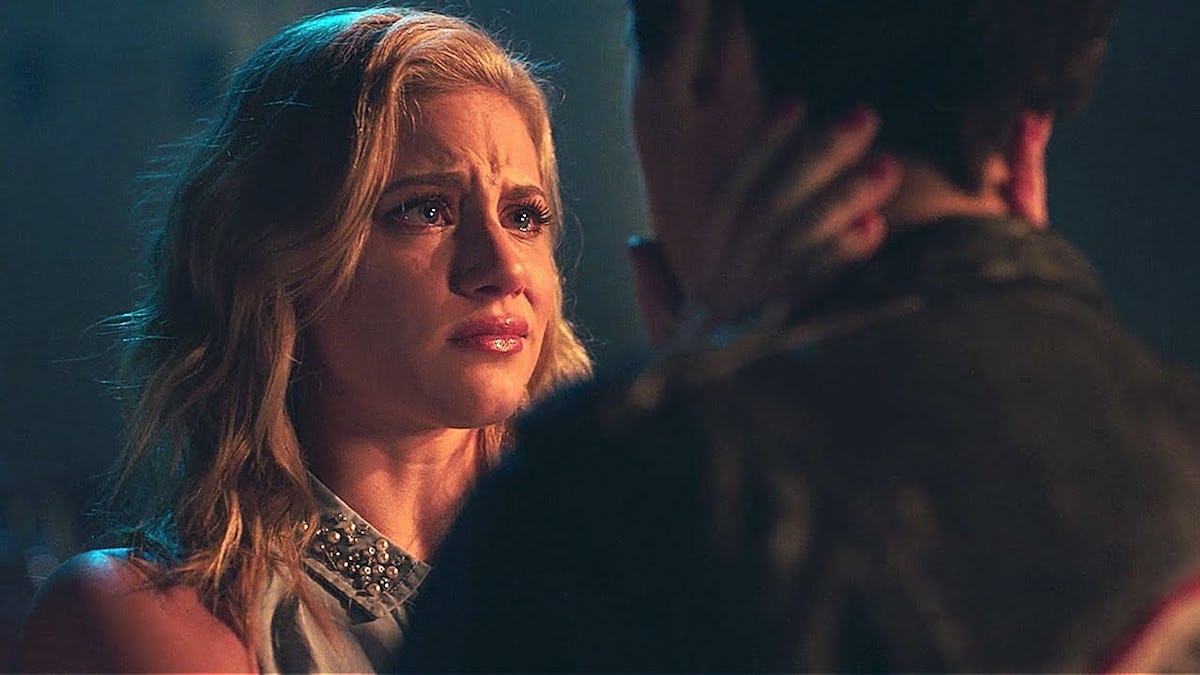 Lili Reinhart Reveals Betty & Her Brother's 'Riverdale' Reunion Will Be Pretty Dark
CW
One of the most anticipated moments of Riverdale Season 2 is about to finally happen when the teen drama returns from its winter break in a couple weeks, and now Lili Reinhart is spilling on Betty's reunion with her brother Chic. In a new interview with Glamour, Reinhart dropped some very interesting details about what fans can expect when the long-lost Cooper sibling, Chic, makes his appearance this season, and as you would expect from Riverdale, the sibling reunion between Betty and Chic sounds like it's going to be very, very dark.
At the end of Season 1, Betty discovered that she and Polly have a secret older brother, but this revelation took a back seat to the Jason Blossom murder mystery that she was investigating. Nothing more really came from the fact that there is another Cooper somewhere out there, but of course, fans knew this bit of info was too big to not come back, and sure enough, back in October the CW began its hunt to cast the character of Chic Cooper. The role was filled by a new actor named Hart Denton, but he has yet to make his debut on the show.
In an interview with Glamour, Lili Reinhart revealed that Chic Cooper will be showing up in Riverdale pretty soon after the show returns from its winter break on Jan. 17, and hinted that his appearance may awaken the inner darkness that we have seen in Betty in the past. As Reinhart pointed out, Betty's family tends to be her trigger in embracing her dark side, and she said that we may be seeing that darkness inside Chic as well:
She's very curious to see if he has that darkness inside him as well. There might be some sister/brother bonding over mental health issues.
That statement probably stands out to Riverdale fans for a number of big reasons. First of all, it seems to suggest the return of Dark Betty, the scary, black wig-wearing alter-ego that we haven't fully seen since Season 1. Another detail is Reinhart describing her character's pull towards darkness as a mental health issue, which is a possible explanation for the behavior that hasn't been explicitly brought up in the series yet. But the juiciest implications of Reinhart's quote is that it seems to strengthen the ever-growing fan theory that Chic Cooper is involved in the Black Hood business that's been central to this season.
After the Black Hood revealed that he has a very close relationship to Betty Cooper in some way, her long-lost brother Chic Cooper became the primary Black Hood suspect among pretty much every fan of the show. Although the recent midseason finale revealed that (SPOILER ALERT) the school janitor Mr. Svenson was under that black hood, most viewers think that unmasking was a fake-out and there is probably a second Black Hood still on the loose. If Chic does share Betty's inner darkness, as Reinhart seems to be suggesting, then it only adds to the theory that he may be the one having phone calls with her as the Black Hood.
There's also another big mystery surrounding Chic Cooper: Who is his father? All we really know about him is that Alice Cooper secretly gave birth to him after revealing to Hal Cooper that she was pregnant during their high school prom. The pregnancy caused a huge fight between the two, with Hal urging Alice to get an abortion. The reason for this fight is still unclear, but it's possible that it could have been caused by a revelation that Hal was not the father of the baby. We know that Alice has a background with the Southside Serpents and some sort of mysterious relationship with FP Jones, so maybe Chic is actually FP Jones' son. That would make him the half-brother of both Betty and Jughead! Of course, that's just a theory — The only thing that we do know for sure is that Chic's arrival will definitely be shaking things up in a major way when he finally shows up in Riverdale.
Hart Denton has been posting photos from the Riverdale set to his Instagram throughout December, so it definitely looks like his character of Chic Cooper will be making his big arrival sooner rather than later. Riverdale will return with a new episode on Jan. 17 on the CW.