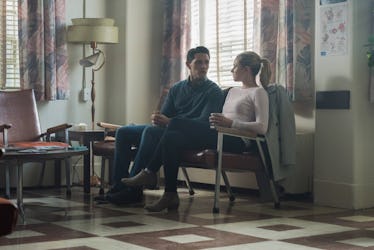 'Riverdale' Season 2 Spoilers Give Us A Whole New Look At The Coopers
The CW
The CW's biggest improbable hit soap opera Riverdale, based on the Archie comics, returns next week with a bang and a promise to tell us what happened to Archie's dad. But Riverdale Season 2 spoilers look to suggest that Archie's family won't be the only one hogging the spotlight. Along with Mark Consuelos (Veronica's father) finally making an appearance as Hiram Lodge, there's now news that the show is looking to cast one of Betty's family members as well.
According to TVLine, the Cooper family's expansion isn't going to be contained to Polly's twin babies. A casting call has gone out for Betty's brother, who has the incredibly hilariously awesome name of Chic Cooper.
Chic won't be arriving right away this season — Archie and Veronica's dad's are plenty enough to keep us occupied for the first hour. Instead, this long-lost brother, who is the child-out-of-wedlock Betty's mother admitted she gave up for adoption in the Season 1, will be arriving around mid-season.
While the implications of this turn of events are wild (we'll get to that in a moment), it's not that big a surprise, as Riverdale creator Roberto Aguirre-Sacasa admitted after Alice Cooper's revelation that he wouldn't be surprised to see her long-lost son turn up.
But what will this do to Betty? As TVLine points out, it may very well send her "further into a tailspin."
Betty's world was already rocked hard in the Season 1 finale when she learned of her mother's deep secret, and the existence of the boy (who is somehow named Chic. Who does that?). She's also lost her boyfriend this coming season, with Jughead now stuck going to their rival high school, Southside High.
Can Bughead survive the separation? Especially with new cast member Vanessa Morgan, who plays "Toni Topaz.... a member of the Southside Serpents who befriends Jughead." We can't imagine Jughead being unfaithful to Betty, but then again, it was only 13 short episodes ago when most would have said that they couldn't imagine Jughead ever dating Betty to begin with.
If Bughead breaks up, and Betty suddenly finds herself confronted by a brother she never knew who has come to Riverdale for... well we don't know why he's come to Riverdale, do we? But it can't be for anything good! What will this do to our virtuous and bubbly blonde heroine? Could we see her go (gasp) Full Dark Betty?
Even with Jughead headed to a new school, his love affair with Betty is still center stage as we see in the Season 2 trailer. The question is do they stay together or wind up apart with the coming threatened "civil war" between Riverdale's Northside residents and the new faces we'll meet on the Southside?
Even if said civil war that Betty fretted about in the finale does not come to pass, this season is going to be dark? Just how dark? As Sprouse said on Reddit:
Darker and weirder. Much darker. Much weirder.
If Bughead break up and Betty goes wild after her brother arrives, is this the show's way to get back to the "Archie-Betty-Veronica" love triangle that was an original hallmark of the comics? Aguirre-Sacasa has said that while Bughead has forged a different path, we shouldn't act that that story will never come back.
Yeah, I think the love triangle, whether we're playing it directly, or it's just bubbling underneath, it's always sort of a part of the show…
In fact, we could see a wholesale shake up, with Veronica's ex, Nick St. Clair, also being cast this season. (He'll be played by The Good Wife's Graham Phillips.) Perhaps we'll see a full on reshuffling, putting Veronica with St. Claire and Betty and Archie together before season's end.
Riverdale returns to The CW at 8 p.m. on Wednesday, Oct. 11, 2017.