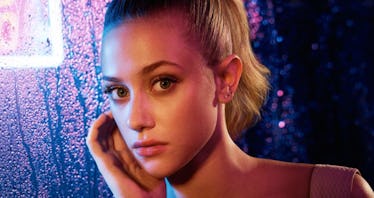 This 'Riverdale' Theory About The Coopers & The Black Hood Makes Too Much Sense
The CW
Like all good and campy teen dramas, Riverdale takes place in a town that is somehow plagued by dark mystery after dark mystery. Last season, we were all hooked on figuring out who Jason Blossom's murderer was, and, similarly, this season, we're all sleuthing hard to figure out who the person in the Black Hood is. Though it's still early in Season 2, a new Riverdale theory about the Coopers and the Black Hood suggests it is someone we have heard of, but haven't met yet. TBH, the theory seems suspiciously obvious, but it makes a lot of sense and will likely have any Riverdale diehard saying "Hmmm..."
So far, the hooded maniac in question is responsible for shooting Fred Andrews, strangling Ms. Grundy, and attacking Midge and Moose. Until last week's episode, it was hard to connect the crimes to one another. Indeed, they seemed random, even though Jughead already told us they were anything but. It's known now, though, that Black Hood is on a mission is to punish Riverdale for its hypocrisy. The masked killer thinks the people of Riverdale have a habit of saying one thing and doing another, which is what led him to target Fred, Ms. Grundy, and Midge and Moose for their behaviors.
We're only a few weeks into the new season, so, naturally, the suspect list is still quite long. It's been suggested by fans that the person behind Black Hood's sinister deeds is Veronica's father, Hiram Lodge, who just got out of prison and has somewhat longstanding issues with Fred Andrews. Others have pointed to Hal Cooper, Betty's father, who has been noticeably absent from the action this season. All I know is it's too early to rule anyone out just yet, and this is Riverdale, so any and all shocks are fair game.
One theory in particular has made its way onto the scene, though, and it actually makes a lot of sense. Some fans of the show are convinced Black Hood is Betty Cooper's long-lost brother that we learned about in the Season 1 finale. If you remember the episode, Betty's mom revealed she gave birth to a son when she was in high school. She gave the son up for adoption, though, and has no idea what became of him after that. We don't even know who the boy's father is. It's reasonable to assume Alice's son/Betty's brother is alive and well in the Riverdale area, and he may even have a motive for Black Hood's murders.
The theory, posted by Twitter user @emiwaltt, suggests Betty's brother is the one responsible for the hooded attacks; it reads,
What if the Black Hood is Betty's brother and he is killing off Riverdale because he is angry at the Coopers. He is clearly targeting people who are close to the people [Betty] knows.
And, though there aren't many details to support the theory right now, a lot of fans on Twitter seem to agree with the idea.
Obviously we've got a long way to go before anything is confirmed, and if this season is anything like last season, Riverdale will probably drag the reveal out and keep us guessing as long as possible.
One thing is for sure, though: the Black Hood is not Archie's mom. According to Riverdale's showrunner Roberto Aguirre-Sacasa in an interview with Glamour, "[I]t would be a really perverse person to take Molly Ringwald and make her a serial killer. That might be even too perverse for Riverdale." So, I guess we can cross Mary Andrews off the suspect list.
In the meantime, while we continue guessing who's in the hood, I'm sure there will be plenty of other drama on Riverdale to keep us entertained.
Check out the entire Gen Why series and other videos on Facebook and the Bustle app across Apple TV, Roku, and Amazon Fire TV.