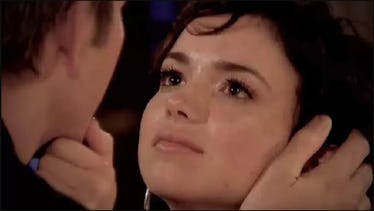 Bekah Finally Revealed Her Age On 'The Bachelor' & Arie's Reaction Was Everything
YouTube
Bekah is like a breath of fresh air for The Bachelor franchise. She's fun, has great energy, AND HAS SHORT HAIR. I never realized the lack of hair diversity on the show (don't even get me started on the other problems with inclusion on The Bachelor). However, this is about Bekah and the great one-on-one date she had with Arie during Week 4. Bekah's one-on-one date with Arie on The Bachelor was filled with romance and Bekah finally spilled her age to Arie.
Arie (and the producers) took the contestants on a trip to Lake Tahoe. It was a great time for the ladies to get some fresh air, take a hike, and enjoy the gorgeous accommodations. While most of the contestants were cooling down and unwinding on the trip, Bekah and Arie were definitely heating up.
The two have an undeniable connection, and can't quite get enough of each other. Bekah already cracked the code on Arie when she told him during Week 3 that she "didn't need him," which is why he was so drawn to her. According to Bekah, he likes to feel needed, which would explain his history of dating single mothers. What's that covering my television screen? IT'S ARIE'S BRAINS SPLATTERED ALL OVER THE PLACE AFTER SHE BLEW HIS MIND.
If you have watched any previews for this season, Bekah's age is a very central topic. This doesn't really seem that drama inducing, but paired with the right music during the promos — it turns V dramatic. It's called Bachelor magic.
At 22, she's one of the youngest contestants in franchise history. This also makes the age difference between her and Arie a lofty 14 years. Before she dropped the age bomb, Arie did do a little digging to find out if they were compatible. He asked about how often she goes out, what her life is like, and if she is in a place where she could get married. When she finally told him that she was 22, he responded with, "Oh my god!" Which was not very cool and collected, but definitely just put his feelings out there.
Arie made some valid points when he said that he was worried because she has a lot more life to live. His biggest concern was that she wasn't ready (once again, totally valid). However, Bekah defended herself really well and explained that she was nervous too, but their connection is worth exploring. For example, how is Bekah supposed to know if he'll like going rock climbing with her friends? It's all part of the journey.
Age is just a number — what matters is the connection between them. Arie apparently agrees because he decided to look past Bekah's revelation (or "The "Bekah-Ning" as ABC called it). He did add that he would be guarding his heart because the age difference does concern him — we'll have to wait and see how their relationship develops.
That was the biggest takeaway from the date. Other activities included horseback riding through the mountains in Lake Tahoe and lots of making out in a hot tub. Bekah said it's "very natural" between them and she definitely "sees a future." Arie even admitted that Bekah is "a lot deeper" than other women he has dated in the past.
To be honest, the women in the house seem to have a bigger problem with it. Bekah's age was a strong conversation topic between all the other contestants in the house while she was out on her date with Arie. A lot of the women were convinced that Arie would send her home because of their age difference while others were uncertain.
Good thing Arie is the one giving out the roses because Bekah received one and is safely heading into Week 5. Although Bekah has come clean about her age, it looks like it will continue to be a topic of conversation throughout the season. Best of luck, Arie.
Check out the entire Gen Why series and other videos on Facebook and the Bustle app across Apple TV, Roku, and Amazon Fire TV.