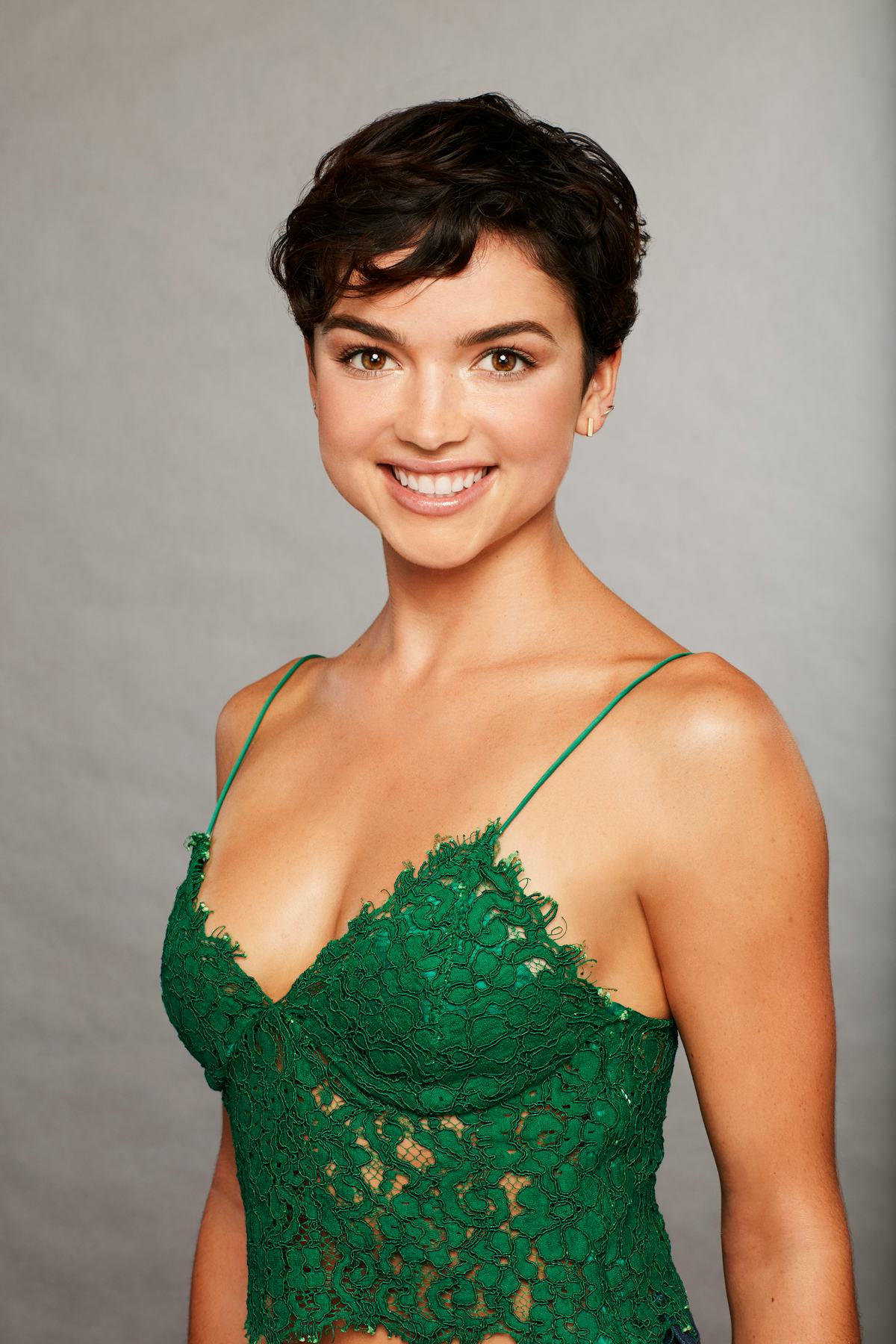 People Are Saying Bekah From 'The Bachelor' Looks Just Like This Movie Star & I'm Shook
ABC/Chris Sjodin
Tell me more. Tell me more. Did you get very far? Grease reference aside, seriously — we want to know how far Bekah gets in The Bachelor Season 22. The Los Angeles nanny is clearly a standout contestant and we're only in week two of Arie's season — it's obvious she and the former race car driver have got chemistry brewing. Not only is she free-spirited and endearing, the woman is stunning to boot. But do you agree with people who are saying Bekah from The Bachelor looks like a certain movie star? You guessed it. The short-haired beauty is channeling Stockard Channing from Grease if you ask Twitter, and we are here for it.
Becca, whose age has yet to be disclosed but Internet sleuths say she's actually 22, hit it off with Arie right off the bat. The contestant even ditched the traditional limo introduction and pulled up in a sweet '60s Mustang convertible when she first met this season's leading man — a very Rizzo move if you ask us. Talk about making an entrance. She's a rock climber who's all about living spontaneously and she just happens to be the first ever Bachelor contestant with short hair. Also, she reminds people of Rizzo from Grease.
But Bekah isn't the only contestant on this season who's being compared to celebrity. When the cast was initially announced, many noticed that Marikh has a resemblance to Kim Kardashian.
Chelsea is also not immune to the physical comparisons, but her likeness is considered similar to former contestant Olivia Caridi.
Even if you don't think Bekah's got badass Pink Lady vibes, you have to admit she's got Arie's attention. The first week they spent some quality time in the convertible getting to know one another and Arie noted that he she won him over immediately. "Bekah has definitely set the bar high," he said. "She is stunning and she is smart and she is funny. At the end of the day I want to get married and there are so many amazing women here, it's making me feel really positive about that."
And things didn't stop heating up on the second week. The pair continued to sneak away for steamy moments, making out and whispering sweet nothings under the Malibu moonlight. Arie even admitted that he wasn't sure if she liked him when they first "met." Sure, buddy.
"I lead with chemistry and with Bekah, there's a lot of that… She's bold and charismatic and when we kiss it was just apparent that she could be the whole package," Arie explained regarding their red hot chemistry.
"I'm simple, I'm no drama, I'm easy to please," Bekah assured him. Casual remark or possible Real Housewives tagline? You be the judge. It's safe to say the lovely Bekah has got to be a frontrunner at this point in Bachelor Nation's eyes.
We know that Bekah's age is going to cause some sort of drama as the season moves forward, so there's that hurdle ahead. Arie recently spoke to The Hollywood Reporter about if the contestants' ages were an issue, saying,
I really didn't let that get in the way unless there was some real emotion in that relationship and I needed to know if we could get to that next step of being possibly engaged. I never asked the producers for any of the women's ages. If it came up in conversation, it came up. It's like anything. If you're on a date and you reference an old movie or you reference a band and they don't know that band, then you're like, 'Wait a second, they don't know that band.' It never really has been an issue for me. I've dated older. I've dated younger.
Perhaps how old Bekah is won't affect how far she gets in this particular competition. We'll be watching next time. In the meantime, I'll be over here with "There Are Worse Things I Could Do" from Grease stuck in our heads.