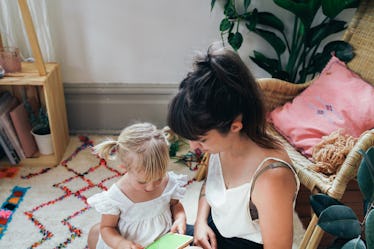 5 Amazing Things You'll Only Experience Once You Become An Aunt
Treasures & Travels/Stocksy
There's a first time for everything. Growing up, you had a lot of firsts. There was riding your bike and having a sleepover, or going to school and taking the bus all by yourself. If your family is anything like mine, they made such a big deal about every milestone, and those firsts have become incredibly engrained memories in your mind. But, having firsts doesn't stop when adulting starts. If you have siblings, one day you might be an aunt, or maybe you're experiencing that role in life right now. Whether you officially take on the title, or are just one on an honorary basis, becoming an aunt for the first time is a once in a lifetime experience. And there's some things you'll only ever get out of having a niece or nephew.
They'll be such a little light in your life, and like your family pet or the plants that sit in your window that you're so dedicated to watering every day — your niece and nephew will hold a special place in your heart. For one, they'll always laugh at all your jokes and want to hear your stories. Embrace every moment of being a role model.
Your sibling will have to handle most of the tough situations. Aunts are naturally pretty fun people for that exact reason. Sure, you won't shy away every time it get sticky, but you'll have your own experiences now that you have a niece or nephew.