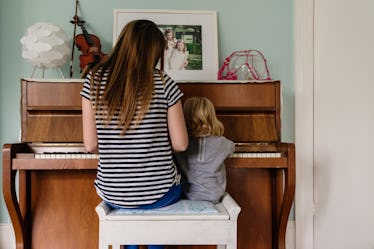 7 Fun Things To Do With Your Niece For Some Quality Girl Time
Gillian Vann/Stocksy
Girls just want to have fun. No matter how old we get, we're seriously just kids at heart. We still laugh over the simplest things, and dip our cookies in milk on occasion. Sure, nowadays we're a lot more bogged down with bills and other matters that come with adulting. But, we have our niece to keep us grounded and put everything a bit more into perspective. There are so many fun things to do with your niece, and let's be honest, you're in serious need of some quality girl time. To her, you're a role model — and that doesn't stop with making memories.
We're used to looking to our best friends when we need a little lady love. They're always down to brunch or take a drive to the beach, and only ever a text away. Your niece probably won't want to listen to your boy drama, but, she'll be there when you want to have a movie marathon or take a shopping trip just the same.
She's a different kind of BFF. One who is a little younger, and finds you so cool just because you care and have grown-up clothes in your closet. As she gets older, you might become her shoulder to cry on, but right now, you have so many smiles and snacks you need to share. If you're unsure of how you two should spend the day, here are seven things you can do together that are bound to be fun.