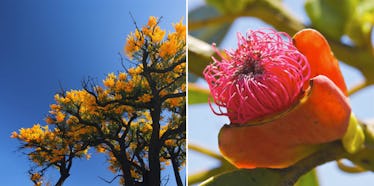 Australia's Coral Coast Is A Wildflower Wonderland Built For The 'Gram
Some places on this planet seem too good to be true. It was Louis Armstrong who looked at the white clouds and red roses and said, "What a wonderful world" — and the more you wander, the more you realize that this Earth is truly spectacular. Every mountaintop comes with new possibilities, and you're dreaming of a day when you can reach through your iPhone screen to touch a wave that's already rolling on your feed. Right now, why don't you focus on turning your social media into a wildflower wonderland? Australia's Coral Coast is the one place you need to travel to for picture-perfect content.
You'll hop on the plane with a nice camera in hand, and maybe a couple of different lenses. The flight will be long, but it'll be so worth it when you're hanging with the kangaroos. You may have heard about the beauty of this country from your bestie who studied abroad there, and really need to experience it for yourself.
Once you befriend a kookaburra, getting to the coast should be at the top of your bucket list. This year, the Coral Coast in Western Australia is #goals for any girl with an Instagram account. With wildflowers blooming around you, you could capture all sorts of colors in photos that will last a lifetime. Don't wait another second, and get your suitcase together ASAP. Next stop: Wonderland.
Why are there so many wildflowers in the Coral Coast this year?
The Coral Coast is stepping up its game this year, with its largest wildflower blooms in more than a decade, according to AustraliasCoralCoast.com. This region is typically known for its vibrant hues and saturated color schemes. But, during these next few months, flowers will be popping up left and right. Fields will show off dramatic hints of yellow, pink, and white. Is this nature's version of a glow up?
Such an impressive bloom shouldn't go unnoticed, which is why you need to book a trip to Western Australia — well, right now. According to WesternAustralia.com, these proud plants will begin peaking around June and July, and continue for about six months. So, you have a little less than six months to get to the other side of the world.
You'd be amongst more than 12,000 different species of wildflowers that are putting on a show solely for your social media. (OK, maybe that's not their priority, but you're already caught up in the daydream. Let's move on.)
What can you expect from a trip to the Coral Coast?
A trip to this corner of the world will be filled with wildlife and new experiences. From the second you arrive, you'll be immersed in hotspots like national parks and reefs that will bring this planet to life right in front of your eyes.
Places like Coalseam Conservation Park and Kalbarri National Park are meant for true travelers who love to get in touch with the great outdoors. From canyons to creeks and vast landscapes, you'll want to take pictures of it all. (Cross your fingers now that your camera will do the views some justice.)
You can also expect the Coral Coast to be a spot for excursions, or rest and relaxation. Spend an afternoon swimming with the world's largest fish, or recharging at a luxury resort. (After a long day of traveling, you already know that some beach days and afternoon naps will be ideal!)
Where else in Western Australia should you go for wildflower season?
Zoom out on the map a bit, and look at the bigger picture. The Coral Coast is part of Western Australia, which celebrates its wildflower season with festivals, events, and tours. Essentially, if you're not quite sure where to find your plant friends, you can be guided to only the best of the buds.
The city of Perth holds the Kings Park Festival in September, where there are a ton of displays and even some art exhibitions. You can listen to live acoustic music while walking around the gardens and getting that content for the 'Gram.
You can also take a trek from two of Australia's capes in the South West to get a closer look at the wildflowers in their natural habitat, and the coast itself. This trail stretches from one lighthouse to another, and will allow you see petals and plants that'll make you swoon.
What kind of pictures can you get amongst the wildflowers?
Seriously, wildflower fields like these are made for your 'Gram. Right now, you and your besties are running out of locations to have a shoot in your hometown. That's exactly when you need to hop on a plane and choose to explore.
You could simply stand amongst the buds that are sporting just the right shade of mac and cheese yellow, or get a few close-ups for your feed. Sometimes, detail shots can be a great way to break up your selfies, especially when they're coming from a cool location like the Coral Coast.
When in doubt, use the self timer on your camera or phone to snap a picture of you and your travel buddies, too. Throw up some peace signs, channel your inner flower child, and embrace that "golden glow." This is wonderland, and you wouldn't want to miss it.