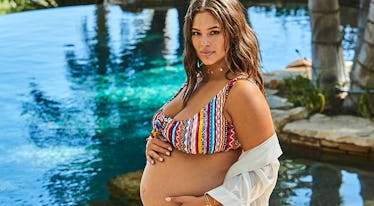 Ashley Graham's Newest Swimsuits For All Collection Is Here, & You'll Want Every Single Piece
Courtesy of Swimsuits For All
Ashley Graham is one of the world's most famous models, so it's safe to say I'm used to seing gorgeous photos of her on the reg. Even so, her latest Swimsuits For All campaign images are some of her most stunning by far, and that's because she's rocking a baby bump and a pregnancy glow with each and every biniki and one-piece. Yup, that's right — Ashley Graham's Swimsuits For All Resort 2020 collection was shot during the model's pregnancy, and it's some of her best work yet.
Graham's fun and inclusive capsule collections for Swimsuits For All are always a hit, and the newest range dropping January 7 celebrates her 5-year anniversary collaborating with the brand. The anniversary just so happened to fall while Graham was pregnant with her first child, and rather than put off the photoshoot, she decided to let her baby-to-be guest-star in the shoot with her. It's the only campaign Graham shot while pregnant, so the photos are particularly special. Oh, and the bathing suits are adorable, duh.
The capsule collection features 11 pieces all priced below $150 and available in sizes sizes four through 26. While they aren't designed solely as maternity swimwear, a pregnant Graham makes them the only option worth considering, whether or not you're expecting. Where else can you snag such high-quality swimsuits with bold patterns, deep V-necks, mesh details and lace-up panels? Graham and Swimsuits For All have you covered.
In a Swimsuits For All press release, Graham got real about her body changing over the past nine months. "Pregnancy has given me a whole new appreciation for my body, and designing this collection allowed me to truly embrace my new curves and my beautiful baby bump in a swimsuit," she said. "I hope this campaign reminds all women that they are sexy and should be celebrated at all stages in their lives." Amen to that, Ashley!
At nine months pregnant, Graham is due any day now, and I can't wait for her baby to grow up and look back on his or her very first photoshoot with mom. To shop Graham's entire 2020 Resort collection now, check out the lineup exclusively on the Swimsuits For All website.