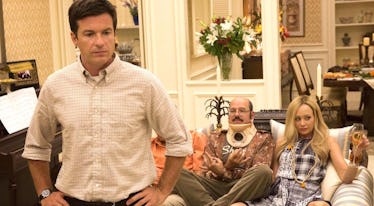 A "Remix" Of 'Arrested Development' Season 4 Is Dropping This Friday, So Cancel Your Plans
Netflix
More Arrested Development is coming your way soon. Like, incredibly soon... as in, this Friday soon! Yep, you heard right — showrunner just surprised fans by announcing that we are only a matter of days away from getting some new Arrested Development. Or at least, it is kind of new. Hurwitz revealed that a "remix" of Arrested Development Season 4 is dropping on Friday, May 4 so it is time to start changing your plans for this weekend. What exactly is this remixed season, and what does it mean for Season 5? Let's get into all the exciting details.
On Tuesday afternoon, Arrested Development's official Twitter account shared a lengthy note from showrunner Mitch Hurwitz, in which he detailed a "remixed" fourth season of the cult comedy series called Arrested Development Season 4 Remix: Fateful Consequences, which will become available to stream on Netflix this Friday. The date was chosen as a nod to Cinco de Cuatro, the holiday that Lucille Bluth created that serves as an essential element in Season 4. Hurwitz revealed that the new version of Season 4 will include 22 episodes, expanding on the original 15, and that it will include new material amid the familiar plot points.
Along with the new Season 4 news, Mitch Hurwitz also teased that Season 5 is coming "real soon." Check out the full note below:
So, why is this Season 4 remix happening, you might be wondering? Well, it is no secret that the fourth season of Arrested Development was met with pretty extensive backlash from fans after it premiered in 2013. Expectation for the new season was almost impossibly high, seeing as it was returning to the air after Fox had abruptly cancelled it seven years earlier. Because the cast had gone onto high-profile movie careers since Season 3, Hurwitz admitted that it was difficult to schedule everyone at the same times, which led to the Netflix season departing from the show's original ensemble format and instead structuring it in a way wherein each character starred in their own individual episode, separate from the rest of the cast for the most part.
In his note, Mitch Hurwitz compares the structure original fourth season to the classic Japanese crime film Rashomon, which is famous for presenting differing perspectives of multiple characters about the same event. He then goes on to reveal that the longer, remixed version of Season 4 will do away with this unique structure, and instead be formatted as the first three seasons were: like a typical, chronologically-advancing ensemble sitcom.
It will definitely be exciting for Arrested Development fans to get a completely different look at Season 4. As a refresher before you jump into the remixed season this Friday, Season 4 of Arrested Development revolved around a series of misunderstandings and comedies of error affecting each character, as is trademark for the series, with an exchange of power within the Bluth Company at its center. The season saw family frenemy Lucille Austero (Liza Minnelli) become the primary shareholder of the company, and in the end, she mysteriously disappears, with Buster left as the main suspect in her possible death and Gob set up as the new primary shareholder.
The other exciting news in Mitch Hurwitz's note is that Arrested Development Season 5 is premiering very soon. The cast has been posting photos from the set of the new season over recent months, so fans have already been assuming that new episodes were coming soon, but it is nice to get the confirmation. Last summer, Jason Bateman revealed that Season 5 will be a whodunnit murder-mystery centered on the death of Lucille Austero.
An official release date for Arrested Development Season 5 has yet to be announced, and the 22-episode Season 4 remix will drop on Netflix on Friday, May 4.