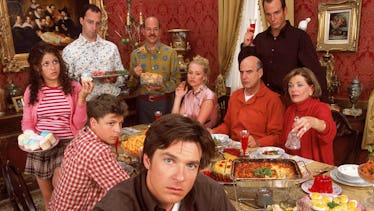 The First Photo From 'Arrested Development' Season 5 Is Here & It'll Get You So Hyped
Fox
It's a Bluth family reunion! As every Arrested Development fan knows, the erratically-airing dysfunctional family comedy is preparing to release its fifth season this year, and now Will Arnett is giving fans their first peek at the reunited Bluth family on set. Check out this first Arrested Development Season 5 photo and start getting hyped up for the new season!
The Arrested Development cast is together again, working on the show's fifth season, which is due to come out later this year on Netflix. The cult classic comedy series initially aired on Fox in the mid-2000s, but was canceled in 2006 after three seasons. Netflix picked up the rights to the series a few years later, and aired a revived fourth season in 2013, with the tentative promise to continue creating new seasons. Last summer — four years after Season 4 — Netflix finally announced that it had officially picked up a new season of Arrested Development, with the whole main cast on board to reprise their roles. Although Alia Shawkat said back in November that she had wrapped production on Season 5, it looks like most of the show's main cast is getting to work on the new season right now.
Will Arnett shared a sweet photo of himself with costars Portia de Rossi and Jason Bateman on Tuesday morning, writing "Family time" in the caption. Arnett, de Rossi, and Bateman play three of the four Bluth siblings: Gob, Lindsay, and Michael Bluth, respectively. The only person missing is their brother Buster (Tony Hale).
This is not the first shot that we have seen from behind the scenes of Arrested Development Season 5. Last week, the show's narrator and executive producer Ron Howard shared a selfie from a sound booth, revealing that he was recording his narration for the new season of Arrested Development.
These photos definitely make it seem like the Arrested Development cast is in the thick of production on Season 5 right now... but then, what should we make of Alia Shawkat's earlier statement that she wrapped filming on the new season at the end of 2017? What it sounds like to me is that the new season may incorporate some of the story structure introduced in Season 4, which followed individual characters for whole episodes rather than an all-inclusive Bluth family story in each episode. Perhaps Maeby Fünke's story is all filmed, and now the rest of the Bluths are working on their episodes?
Last summer, Jason Bateman teased what Season 5 will be about. Apparently, the new run of episodes will center on Liza Minnelli's character of Lucille Austero, who went missing at the end of Season 4. Bateman revealed that Lucille Austero will be presumed murdered in the new season, and the major thread of Season 5 will focus on the mystery of who killed her. I guess that means we won't be seeing Minnelli back on the show... unless it is just as a corpse.
Jason Bateman also hinted that Season 5 might be the penultimate season of Arrested Development. He shared that creator Mitch Hurwitz had a three-act story in mind when Netflix picked up the revival series, which seems to mean that the potential Season 6 would be the final act in his plan for the new run. Then again, there have also been rumors about an Arrested Development movie for years, ever since the Season 3 finale teased the idea over a decade ago. Maybe a big-screen adaptation is what Hurwitz has in mind after Season 5 for the series finale, or maybe he will continue to get story ideas and keep the show going beyond Seasons 5 and 6.
Arrested Development Season 5 is slated to premiere on Netflix sometime in 2018.