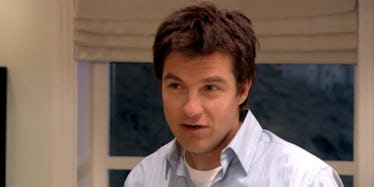 Jason Bateman Reveals 'Arrested Development' Season 5 Will Be A Murder Mystery
Fox
The long wait for new Arrested Development episodes is almost over, and now Jason Bateman is revealing what Season 5 is going to look like. Apparently, it's going to be a lot more mysterious than seasons past.
Bateman told Entertainment Weekly Radio the upcoming season of Arrested Development will be a murder mystery, centering on the murder of Liza Minnelli's Lucille Austero.
The central spine of the story is the death of Liza Minnelli's character, and a bit of whodunnit, who may have done it, who had something to do with it. That's sort of a central thread around which [creator Mitch Hurwitz] is going to braid in all the colorful plot complications that he knows how to do.
At the end of Season 4, Lucille Austero mysteriously disappeared after gaining control of the Bluth Company. In her absence, Gob (Will Arnett) was given control of the company and Buster (Tony Hale) was arrested on suspicion of murdering Austero.
It sounds like Lucille 2 will continue to be a huge part of the new Netflix episodes, even in her absence, as the Bluths attempt to find out the truth behind her mysterious disappearance and possible murder.
But while getting new plot details is great, I think the thing Arrested Development fans really want to know about the new season is whether or not it will continue the much-maligned format of the previous string of Netflix episodes. A change from the original three seasons, the show's first run on Netflix in 2013 was made up of various episodes from the perspective of different characters, rarely ever featuring the entire cast together.
To the relief of most fans, Jason Bateman assured Season 5 will return to the show's original format, with the entire cast together again. The actor admitted the experimental fourth season "didn't really come together as well as [Hurwitz] wanted it to," but he and the rest of the cast are "still very proud of those episodes."
But Jason Bateman also hinted at some sad news for Arrested Development fans, namely that the show might be nearing its end. He revealed that Mitch Hurwitz had a "three-act story" in mind when the revival series was picked up by Netflix. Season 4 was the first act, and Season 5 will be the second.
So, does that mean after Season 6, it's all over? There have been talks of an Arrested Development movie since the Season 3 finale teased it all the way back in 2006, but now it's sounding like the beloved comedy franchise will be closing up the banana stand after one more season.
Listen to Jason Bateman's full interview below, and check out Season 5 of Arrested Development when it lands on Netflix sometime in 2018.