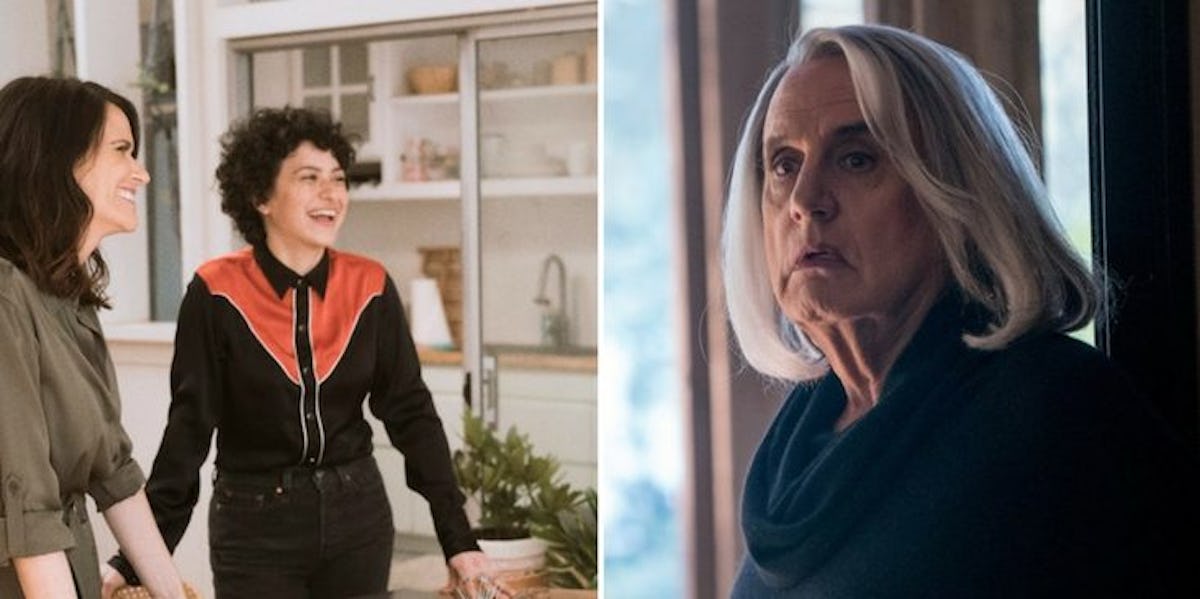 Jeffrey Tambor On 'Arrested Development' Reunion In 'Transparent' Season 4 – EXCLUSIVE
Amazon
Transparent is known for facing somewhat uncomfortable situations head-on, and that's exactly what Jeffrey Tambor had to do during his initial table reading for the newly released fourth season of the Amazon dramedy. That bit of awkwardness came from the fact that Tambor was sitting across from his former TV granddaughter Alia Shawkat, who recurs on the new season, as she was reading her raunchy role as a pansexual sex addict named Lila. Jeffrey Tambor shared his thoughts about the surprising Arrested Development reunion on Transparent this season with Elite Daily ahead of the Season 4 premiere.
Jeffery Tambor admitted he was pretty blown away when he first heard Alia Shawkat reading her scenes for the new season. Tambor and Shawkat go way back to the mid-2000s cult classic sitcom Arrested Development, on which Tambor played Shawkat's grandfather George Bluth Sr. Shawkat's role as the cunning, rebellious Maeby Fünke was her breakout role — she was 14 when she first began playing Maeby in 2003. But Shawkat's new part as Lila in Transparent is (obviously) much more adult, which was a bit of a shock to Tambor. Early in the new season, Lila enters into a sexually-charged throuple with struggling married couple Sarah and Len (Amy Landecker and Rob Heubel). Tambor marveled at how strange it was to see the child actor he once worked with now taking on mature roles... and totally crushing them!
I was just thinking about how life has changed. When I see the trio of Amy [Landecker] and Rob [Heubel], and that's my little Alia, who I knew from another venue, when she was reading children's books. Holy mackerel! I remember she and I looking at each other during the table reading and then she started the scene. I was like "Oh my God!"... I mean, she and Michael Cera were these little babies! So that's a big [difference]. But she's a major league hitter — she can hit it out of the park.
Viewers will understand Tambor's shocked reaction even more if they've already started watching Season 4 of Transparent. The Pfefferman siblings meet Lila at a sex and love addiction meeting in the premiere episode, and she and Sarah immediately form a connection. As the season goes on, Sarah brings her husband Len into the mix and they enter into a throuple... a throuple that has a lot of sex a lot of the time.
Though most people are probably in the same boat as Tambor in best remembering Shawkwat from her younger days on the first three seasons of Arrested Development, many other fans won't be too shocked by her more mature role in Transparent after having seen her recent turns on Getting On or Broad City, or her starring role on the TBS comedy Search Party (which is amazing and you should be watching it, by the way).
Additionally, Shawkat and Tambor will be reuniting once again for the upcoming fifth season of Arrested Development. Though both actors also came back to film the fourth season of AD for Netflix in 2013, production famously could not work around all of the stars' schedules and had to film the cast separately from one another. Some critics of that fourth season pointed to this disjointed filming schedule as one of the reasons they felt the revival fell flat. However, Jason Bateman has assured fans that this time around, the whole cast is back together on set and filming the new season together, like they did for the initial three-season run on Fox back in the mid-2000s. Arrested Development Season 5 is expected to premiere on Netflix sometime in 2018.
As for Transparent, Season 4 is currently available to stream on Amazon.
Check out the entire Gen Why series and other videos on Facebook and the Bustle app across Apple TV, Roku, and Amazon Fire TV.