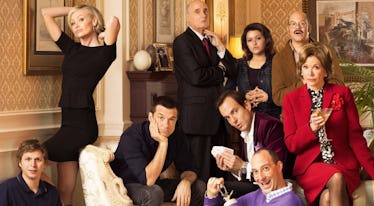 'Arrested Development' Season 5 Is On Its Way, So Get Ready For More Bluths
Netflix
It is almost time to return to the banana stand! It has been nearly five years since Netflix revived the cult classic Fox comedy Arrested Development, and now the streaming service is finally about to release a new season. With the hype growing for the upcoming season, most fans are probably wondering when does Arrested Development Season 5 premiere? Well, the good news is that we will not have to wait much longer to get more wild antics from the Bluth family.
Arrested Development isn't exactly known for following a consistent release schedule — after all, it took a full decade for the series to air four seasons. The dysfunctional family comedy began on Fox in 2003, where its first three seasons garnered it a fervent fanbase but continually struggled in the ratings department. After Fox pulled the plug on the show in 2006, Arrested Development really gained its cult status as more fans flocked to the canceled series via DVDs and streaming services. Finally, Netflix (which had already acquired streaming rights to the series) revived Arrested Development for a fourth season, which aired in 2013. There was some speculation over whether the revival would continue into more season or remain a one-time thing, but now the cast is back together and officially working on Season 5.
The question now is when exactly Season 5 is going to premiere. Netflix confirmed that the new season will premiere sometime in 2018, but fans are still waiting on an exact premiere date. Signs seem to be pointing to sooner rather than later, though, if you take a look at the cast's social media posts. In the past couple of days, executive producer and narrator Ron Howard posted a selfie from the Arrested Development sound booth, and Will Arnett just posted a pic alongside his on-screen siblings Portia de Rossi and Jason Bateman. Tony Hale has gotten in on the fun, too.
And these are not the first teases that we have gotten about the Arrested Development Season 5 production schedule. Apparently, the cast has been working on the new season for months now — back in January, Tony Hale posted a selfie with his Bluth brother Jason Bateman.
It sounds like the Bluths have been filming the new season since the end of 2017. Alia Shawkat told Stephen Colbert in November of last year that she had already wrapped her filming for Season 5. A couple of months before that, Tony Hale posted a selfie alongside his on-screen mother Jessica Walter, captioning it with the Arrested Development Season 5 hashtag.
It looks like the new season has been in production for about half a year now, which means that the Arrested Development team could be ready to release Season 5 pretty soon.
Along with all of these exciting, behind-the-scenes snaps of the cast, we also have some plot details about what Season 5 of Arrested Development will be about. After the renewal announcement, Jason Bateman revealed that the focus of Season 5 would be on the murder of Lucille Austero, an age-old frenemy of the Bluth family played by Liza Minnelli. As a reminder, Season 4 ended with the mysterious disappearance of Lucille Austero, leaving Gob to replace her as the head honcho at the Bluth Company and Buster arrested on suspicion of murdering her. Bateman said that the new season will center on the mystery of who really killed Lucille Austero.
Arrested Development Season 5 does not have an official premiere date yet, but look for it to drop on Netflix sometime later this year... maybe even in the next few months.