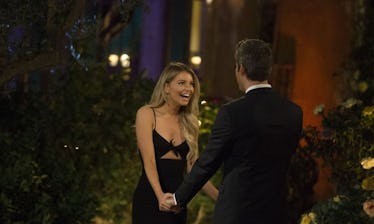 'Bachelor' Arie Sent A Girl Home On A 1-On-1 Date & It Was So Awkward, It Hurt
YouTube
Arie made big moves this week on The Bachelor when he made the surprising decision to send home Lauren S. on their one-on-one date. Due to amazing dates and overall awkwardness — contestants seldom get sent home during individual dates. Even though it was a "very Lauren S. date" (her words, not mine), Arie wasn't feeling the connection. Arie's one-on-one date with Lauren S. was romantic, but it ended so, so sad.
Lauren S. may have been the most excited contestant I've ever seen when she stepped out of the limo for her big date. She was wearing an adorable red dress with ruffled sleeves which matched the red carpet Arie (or a member of the production crew) rolled out to pave the way to a private jet. The two spent the day in Napa tasting wine and walking around the vineyards. They talked about their morning routine and drank wine. The evening portion included more wine over a candlelit dinner. That's where things went south.
Lauren S. sadly couldn't get out of her own head and talked and talked and talked about random subjects. No offense to Lauren S., but Arie looked bored. He even ate on the date which is never actually seen on camera. The two did not connect. According to Arie, "I really wanted this for us .... But, I don't even know." He did assure her that he thought she was "amazing." Basically, it was really awkward and Arie waved the rose around in her face while dumping her. Brutal.
Lauren S. was definitely bummed and shed a few tears over the break up. However, she admitted that she was "all over the place." She was not able to get out of her own head and be herself. Honestly, I think we've all been there. Needless to say, Twitter was shook over the date.
While the Arie and Lauren portion of the date was hard to watch, Krystal made the whole thing even more cringeworthy. When someone came to grab Lauren S.'s packed suitcase, Krystal grinned from ear-to-ear. It was truly frightening. She then proceeded to give all the women in the house a speech about Lauren S.
Apparently, she "confided" in Krystal and told her how she had problems opening up. Whether this is true or not, Krystal received a lot of eye rolls from the ladies in the house.
Krystal is probably the most confident woman in the house when it comes to her relationship with Arie. Besides all the kissing and meaningful conversations the two have had, her cockiness stems from her one-on-one date during Week 2.
Krystal received the coveted one-on-one date early in the season (always a good sign). The kicker — Krystal and Arie rode on a private jet to Arizona where she got to see his personal home, where he went to high school, AND MEET HIS PARENTS.
I've seen her confidence from a lot of contestants in previous Bachelor and Bachelorette seasons — it usually always backfires.
Arie has liked Krystal from Night 1, and even he agreed it had to do a lot with her red dress. Arie told InStyle during an interview that he remembers every single dress from Night 1 which is kind of amazing. He said,
It's funny, I can remember pretty much everyone's dress from that first night especially ... And for the women I was really interested in, I can tell you exactly what they wore on dates with me throughout the entire season—even down to their earrings.
As far as what Arie likes, the answer is a gorgeous red dress. In fact, he thinks that's the best thing a woman can wear on a first date. *Cough, Krystal.*
For a first date, the sexiest thing a woman can wear is a beautiful dress, especially in a color like red ... Krystal's red dress caught my eye right away. She was one of the only ones to wear that color and it looked amazing.
TBH, Arie has great taste. He also mentioned that it's always best to go classic with a black dress. If he doesn't find love, I'm seeing a fashion-dating-love spin-off in his future. Let's go for love this time, though.
Check out the entire Gen Why series and other videos on Facebook and the Bustle app across Apple TV, Roku, and Amazon Fire TV.