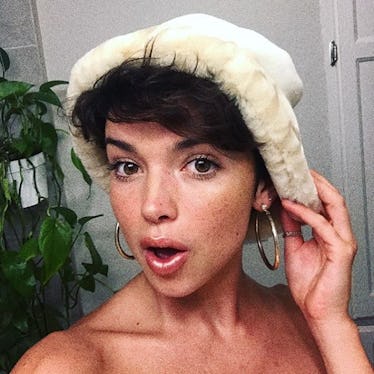 Photos of Bekah From 'The Bachelor' Prove She's A '90s Fashion Dream
@whats_ur_sign Instagram
I love the trends of the 2000s, but I'm definitely nostalgic when it comes to '90s fashion. What can I say? I'm loyal to the decade that birthed me. While perusing Instagram like a proper millennial, I couldn't help but become obsessed with photos of Bekah from The Bachelor. Girl has the style game on lock with her vintage and '90s kid inspired outfits!
I'm not even that big of a Bachelor/Bachelorette series stan, but it seems like this year people are obsessed with Bekah Martinez from The Bachelor. After a browse on her Instagram, I have the throw my support behind Team Bekah as well. Not only does she rock her own style, but she is also definitely not afraid to change up her hair.
I don't know about you, but I feel like 2018 is starting with a fashion renaissance. I remember when style and trends were contingent on what was in. Now though, it's all about whatever makes you feel good and authentic in your self. Whether you decide to rock a vintage style one day and a super preppy style the next, the world is really your sartorial oyster.
Although I can't really narrow down Martinez's style into one category, I love her vintage meets '90s cool girl looks. Depending on which hair color or cut she's sporting, it totally changes up her whole look. She definitely encourages experimentation and stepping outside of prescriptive beauty standards, which is inspirational AF.
Martinez's style is funky, streamlined, and always accented with a standout piece.
Martinez also isn't afraid to mix patterns, and colors. Here, she has on a pattern off the shoulder dress or shirt, with exposed salmon pink straps, large baby blue earrings, and a patterned headscarf. First off, I would never think to mix baby blue and salmon pink together, but it works. I'm not sure if viewers will see her rocking head scarves on the show, but she seems to really love them.
Here she is again sporting a head scarf, this time a striped variety, while she's tucking into a bottle of wine and charcuterie board. She loves pairing a head scarf with oversized hoop earrings, which lends her a very cool vibe.
Hoop there it is.
Here's another hoop moment, paired with French-inspired separates and adorable black flats.
Hoop earrings might just be Martinez's signature.
Look at the hoops she's paired with this interesting T-shirt, which features a drawing of a woman perching over with cherries for her bottom. V cool.
For a while, at least on the gram, it seems like Martinez took a bit of a break from accessories and transitioned into a bit of a color moment. I need this dress in my life for a beach vacation.
If you thought the hoops were gone though, you're wrong. If Martinez and I were friends, I totally feel like she would find me the most dope pair of bronze or gold hoops.
Before I get off my earring kick, how cute are these?! '60's inspired tassel earrings are enjoying a resurgence right now. Whether you're planning a trip to warmer weather or want to change up your night out look, they upgrade your entire look in mere seconds.
I think I might bookmark this photo for later. Tassel earrings, embroidered jeans, and a bomber jacket is the combo I didn't know I needed.
Gushing aside, whether Martinez gets the final rose or not, she needs to launch a clothing line, or capsule collection with ASOS, or a cool female-owned fashion brand. I need this black dress in my closet like yesterday, and I'm willing to wager you do too.