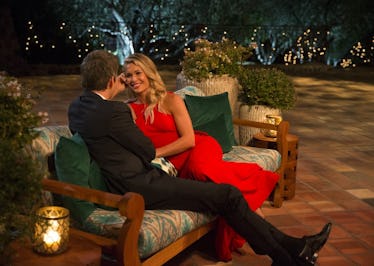 'Bachelor' Arie's Shocking Date With Krystal Proves He's Shaking Things Up This Season
YouTube
The Bachelor has been on for two weeks, and I'm already exhausted. The beginning is the hardest because there are so many contestants who start to blend together after a while. One woman who has already started to stand out among the pack is fitness coach Krystal. As soon as she stepped out of the limo on the first night, you could tell she was going to be an influential cast member. Apparently Arie thought so too, because he gave her the second one-on-one date — which is a big freaking deal. Krystal's one-on-one date on The Bachelor was honestly really intense.
In my opinion, Krystal is a tough cookie to crack. She's constantly smiling and her intro video showed her vulnerable side when she talked about her brother who was living on the streets. She's definitely a mixed bag — first she was recording herself doing squats on the beach, then, she was delivering lunches to the homeless. After receiving the second one-on-one date card, Krystal was nice enough to not want to, "gloat in front of girls," but then proceeded to break into a series of weird, "yays!"
Overall, Krystal is probably a perfectly fine human being, but she is starting to establish that she is not on The Bachelor "to make friends." YAWN.
While some contestants may be all talk, Krystal put a giant target on her back when she received the second, coveted one-on-one date with Arie. Not only is this intimate date a big deal, but it happened right off the bat this season. Arie literally hand-selected Krystal to spend more time with her after meeting for one night. All the other girls should be concerned.
Here's the kicker — Arie didn't plan an adrenaline-pumping sky diving date or romantic walk on the beach. This bish had Krystal MEET HIS PARENTS.
The date started when Arie whisked Krystal away on a private jet to his home in Arizona. She looked super cute in a grey tank top, jeans that fit like a glove, and ankle booties. Krystal, start selling stuff on Instagram so I can see where you got all that stuff.
She really made the rounds in Arizona — In one swoop she met Arie's parents, his dog, rode around in his car, looked at pictures of Arie's grandfather, and went to his former high school. If you're a fan of the franchise, you know that a date like this so early in the season is unheard of. ARIE, WHAT THE HELL ARE YOU DOING?
Arie has made it abundantly clear that after his second stint in Bachelor nation, he's ready to settle down. He dished to Good Morning America about the reality check he received when his little brother got married. He said,
I'll be 36 in a few weeks so for me it's time. All my friends around me have kids and are grown up, so for me, I feel like I'm the last one of my friends to take that step. And my little brother got married, and he's 24.
In two short weeks, Arie has already shown that he means business. Krystal met his parents during week two — who knows what's next. She's obviously a front-runner which I'm sure will stir up lots of drama in the house.
According to Krystal's profile on ABC, the animal she would most want to be is a unicorn because, "those who believe in magic will find it." I'm not sure who's Pinterest board she stole that off, but Arie is definitely feeling the magic.
Don't miss a minute of the love and tears — The Bachelor is on Mondays at 8 p.m. EST.
Check out the entire Gen Why series and other videos on Facebook and the Bustle app across Apple TV, Roku, and Amazon Fire TV.