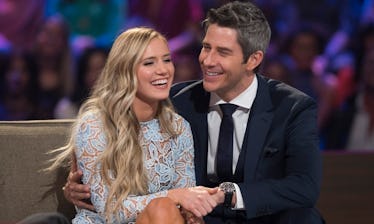 Arie & Lauren Announced Their Destination Wedding Date & It's So Freaking Soon!
ABC/PAUL HEBERT
Wedding fever is real! Just days after a certain American actress donned a gorgeous white dress to get hitched to a British guy (Who? Can't remember, not important right now), the most recent Bachelor couple revealed that they're officially planning their wedding. Arie Luyendyk Jr. and Lauren Burnham's wedding date will be Saturday, Jan. 12, 2019, according to a press release. And it's not just any old wedding, either. It's a destination wedding weekend in one of the most scenic spots in Hawaii.
The wedding will take place at Maui's Historic Haiku Mill. The venue is a luxury event venue set on two acres of restored ruins and lush greenery. According to the press release, the nuptials will be a "private wedding," but come on. This is #BachelorNation we're talking about. Won't there be cameras? Producers? Chris Harrison? It would practically be unfair to deny audiences a chance to witness the wedding in all its tropical glory.
As you may remember, Luyendyk and Burnham actually met years ago at one of his racing events in Dallas, and it was a coincidence that they both wound up on The Bachelor at the same time.
"She talked about it when we cast her," Robert Mills, ABC's senior vice president of alternative series, said on Entertainment Weekly's podcast. "Lauren went to a racing event in Dallas that Arie was racing in, and she met him and it was a very brief thing... Lauren was cast before it was Arie, so it was a complete happy accident."
The two met again in late September 2017 on the first night of filming. After Burnham stepped out of the limo, she greeted Luyendyk and presented him with a picture they had taken together in Dallas. (The episode aired during the season premiere on Jan. 1, 2018.)
While Burnham didn't have tons of screen time early on in the season, she ultimately caught Luyendyk's eye (and heart). Luyendyk encouraged her to open up more and be more vulnerable; by the time he narrowed down the competition to just Burnham and Becca Kufrin, he appeared to be seriously torn between the two very different women. He proposed to Kufrin, despite his lingering feelings for Burnham.
In a truly shocking twist, he broke up with Kufrin during one of their "happy couple" visits while the cameras were rolling. He then flew to Virginia to reunite with Burnham. Following the season finale on After The Final Rose, Luyendyk proposed to Burnham on Mar. 6.
Since stepping away from the cameras, Luyendyk and Burnham have focused on enjoying their relationship. They vacationed together in Iceland and Spain, traveled to Australia (where he competed in and won a racing event), and even bought a four-bedroom house in Arizona.
It turns out there's a sentimental reason that the couple wants to get married so soon. Per the press release, "The January 2019 wedding timeframe brings their meeting full circle as Luyendyk began his journey on The Bachelor in January 2018."
Meanwhile, Kufrin turned out more than fine. While many critics called The Bachelor's treatment of her cruel, she clearly bounced back. She was cast as the lead in The Bachelorette's 14th season, which premieres this Monday, May 28 (Memorial Day). And for the second time in five months, Kufrin is off the market!
"I am engaged!" Becca revealed to People magazine. "It was the happiest moment of my life. And it feels so good to say it. I still pinch myself, like, did that all just happen? It's been a whirlwind."
So it looks like there's another #BachelorNation wedding coming down the pipeline soon. Can't wait!