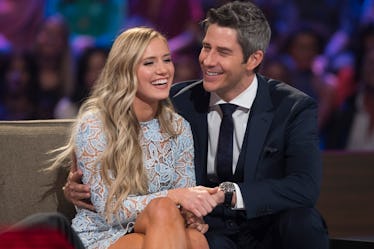 Here's Why Arie & Lauren Met With The 'Marriage Bootcamp' Counselors
ABC/Paul Hebert
I don't know if you've ever caught the delightful train wreck that is the WE TV series Marriage Boot Camp, but it's a perfect watch if your greatest wish is for people from your favorite reality TV shows getting together for a crossover special analyzing their marriages and what's wrong with their relationship. Several Bachelor couples, some who are still married and others who were only dating at the time, have appeared on the franchise, but when I heard that most recent Bachelor couple Arie and Lauren met with the Marriage Boot Camp counselors, I was a little confused. Trouble in paradise already, guys? Arie Luyendyk Jr. has clarified why the couple visited the counselors so soon into their relationship, but I'm still a little skeptical.
It's been a little over a month since the controversial end to Arie's Bachelor season aired, and Arie and Lauren have already moved in together in Arie's Arizona hometown. The two also stirred some feathers when they played an April Fools' pregnancy joke, which didn't exactly improve their already dwindling popularity, but interest in Arie and Lauren spiked when photos of the two meeting Marriage Boot Camp counselors Dr. Ish and Dr. V hit the internet. So, what was the reason behind the (pretty staged-looking, TBH) meeting?
Speaking to Entertainment Tonight, Arie explained why he and Lauren had lunch with the counselling duo:
We went to lunch with them just to hear about their show, and they gave us a lot of good advice. It's always good to get advice. We've also met with Lauren's pastor at her church. So it's good to really lean on people that you know can shed some light on how to help your relationship.
Although it's tempting to poke fun at the credibility of marriage counselors who will appear on the likes of Marriage Boot Camp, Drs. Ish and V are legit. According to her Boot Camp bio, Dr. V has a PhD in clinical psychology, while Dr. Ish's bio says that he is a board certified psychiatrist. We could snark all we like, but it does look like they're capable of giving Arie and Lauren legitimate advice.
Besides crossing paths with other reality stars, Arie and Lauren have also been busy planning their wedding, which they have insisted should happen by the end of this year. Speaking to PEOPLE recently, Arie revealed that he and Lauren are trying to plan the big day around the Bachelor filming schedule. His reasoning is that, even if they decide not to have a televised wedding, Bachelor producers who would be filming other shows could still attend:
It would either [be] in September or after they get done filming, which is in the middle of November. We are bouncing around ideas and dates, and Lauren's mom has been super helpful with venues, so we are just getting to it.
If Lauren's mom has any say in the wedding planning, it's safe to say that Arie and Lauren are probably avoiding an ABC-provided wedding, which is a smart decision. Even without the context of Arie's Bachelor switcheroo of breaking up with first pick Becca Kufrin and then going after Lauren, I don't think any of us would willingly watch Not Peter's televised wedding.
Meanwhile, while Lauren and Arie are caught up in their pre-wedded bliss, Becca is busy living her best life as the Bachelorette. Now filming the season for about a month, Becca likely won't receive an invite to Arie and Lauren's upcoming wedding, but I don't think she'd complain about the snub.
Here's hoping that their lunch with Dr. Ish and Dr. V won't lead to Arie and Lauren making an appearance on the messy Marriage Boot Camp series. I may or may not have my fingers crossed that we're also spared from another Bachelor wedding for now — I don't think I can handle vows saying, "I love that."