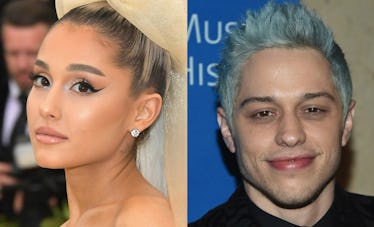 Ariana Grande Responded To Pete Davidson's Instagram About Bullying In A Touching Way
Neilson Barnard/Dimitrios Kambouris/Getty Images
People really just need to let Pete Davidson live. Following his breakup with Ariana Grande and undoubtedly a lot of social media hate following "Thank U, Next" and its music video, Davidson released a statement on his Instagram on Dec. 3 calling people out for bullying him online over the last nine months. The statement is truly heartbreaking and sheds light on his mental health (which he's always been candid about). At first, Grande subtly responded to his post by liking a fan's positive tweet about her ex, but now Ariana Grande's response to Pete Davidson's note about bullying makes it clear where she stands on this issue. Spoiler alert: She wants people to treat him better.
Davidson posted to Instagram on Dec. 3 in an attempt to get people off of his back and let him have some peace. Elite Daily previously reached out to Davidson's team for comment on the post, but did not hear back by the time of publication. It's not the first time he's posted a statement on Instagram about the things people say about him online. While he was still engaged to Grande, he announced he was taking a social media break to get away from the apparently constant stream of negativity from people online. His latest Instagram statement shed even more light on this struggle he's been having ever since he and Grande got together.
"I've kept my mouth shut. Never mentioned any names, never said a word about anyone or anything," his post started off. "I'm trying to understand how when something happens to a guy the whole entire world just trashes him without any facts or frame of reference."
He called out people who claim to be mental health warriors while also disparaging him frequently — a person who has been open about his mental health struggles in the past. "Especially in today's climate when everyone loves to be offended and upset it is truly mind boggling," he said. "I've been getting bullied online and in public by people for 9 months.
His post then continued to give insight about his life with Borderline Personality Disorder (BPD). Davidson wrote,
I've spoken about BPD and being suicidal publicly only in the hopes that it will help bring awareness and help kids like myself who don't want to be on this earth. I just want you guys to know. No matter how hard the internet or anyone tries to make me kill myself. I won't. I'm upset I even have to say this. To all those holding me down and seeing this for what it is — I see you and I love you.
Grande originally responded to this statement by simply liking a tweet from a fan that said, "LEAVE PETE DAVIDSON ALONE !!!"
Now, she has posted her own official response on Instagram.
Grande posted a screenshot of Davidson's post to her Instagram story early in the morning on Dec. 4 and implored fans to treat him with kindness.
"I know u already know this but I feel I need to remind my fans to please be gentler with others," she said. "I really don't endorse anything but forgiveness and positivity. I care deeply about Pete and his health. I'm asking you to please be gentler with others, even on the internet."
Her post continued,
I've learned thru my own mistakes not to be reactive on socials so I do understand. But you truly don't know what anybody is experiencing ever. Regardless of what they choose to display on social media or how they may appear in public. I can promise u that. So please let whatever point you're trying to make go. I will always have irrevocable love for him and if you've gotten any other impression from my recent work, you might have missed the point.
That recent work she's referring to, of course, is her first number one single, "Thank U, Next."
Grande recently debuted the "Thank U, Next" music video, which we all well know by now is about her past relationships and how she's grown from them, told through the lens of iconic 2000s rom-coms. She names rapper Big Sean, dancer Ricky Alvarez, Pete Davidson, and Mac Miller in the song and sings about learning and loving and growing through all of those relationships instead of sitting in unhappiness/bitterness after they ended. It's a hugely positive breakup anthem that doesn't paint any of the men in a negative light.
She even has a page for Davidson in her "Thank U, Next" burn book that says "I love u always."
It's really heartbreaking that Davidson was brought to the point where he felt the need to talk about his struggles with suicidal thoughts on such a public platform. Just like he said, it shouldn't take him having to talk about some of his most personal struggles in front of the world in order for people to treat him with kindness. Give the man some space, people. Ari's orders.
If you or someone you know are experiencing suicidal thoughts, call 911, or call the National Suicide Prevention Hotline at 1-800-273-8255.