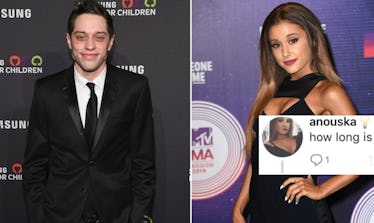 Ariana Grande Might Have Just Revealed The Size Of Pete Davidson's, Uh, Interlude
BRYAN BEDDER/IAN GAVAN/GETTY IMAGES ENTERTAINMENT/GETTY IMAGES
You're probably already aware that pop star Ariana Grande and SNL actor Pete Davidson are engaged. It happened kind of quickly, but they're super adorable and a little quirky. Regardless of what you think about the two of them separately, you have to admit that they're really cute together. Even though you probably want to try and soak up every bit of information you can about Hollywood's latest and greatest dynamic duo, Ariana Grande's NSFW tweet about Pete Davidson will probably leave you feeling kind of weird. Scratch that, it'll make you feel really weird.
Fans of Grande were already well aware that the "Bang Bang" singer was sassy AF, but on Friday, June 22, Grande trolled the Twittersphere like you would not believe. Although Grande's tweet has since been deleted, Twitter user @ginagrande_ acted fast and took the liberty of taking a screen shot of a Twitter convo between twitter user @grandeseclipse and Ariana Grande. Grande's response will definitely make you a little uncomfortable.
It all started with Twitter user @grandeseclipse tweeting at Grande, asking, "how long is pete???" If you think about it too much, it sounds a little dirty, so she quickly followed it up with, "OH AS IN THE INTERLUDE NOT AS IN..... ANYWAY." Most people probably would have ignored the slight innuendo in there, but Grande was not about to let that one slide. Grande's response was, "like 10 inches? ... oh f*ck... I mean... like a lil over a minute." LOL, yup. Too much information, Ari. That is definitely TMI.
After you get all of the inappropriate images out of your head, there's a pretty likely chance you're wondering what all of this is in reference to. Earlier in the week, Grande took to Instagram to release a snippet of her new not-yet-released track, which she later revealed to fans on Twitter is her latest song titled, "Pete." So, yeah... that makes a little more sense, doesn't it? I honestly don't know a ton about the song, other than the fact that apparently the interlude is a little over a minute, and that it's really catchy. Also I now know way too much about Pete, and I kind of wish I didn't. But I guess that's OK, everyone needs to take advantage of a little dirty-minded humor every once in a while, I guess. Even my girl Ari.
Based on reports from earlier this week, it turns out that the two have already moved in together. On Wednesday, June 20, People revealed that the lovebirds moved into a luxury New York City apartment building, and TBH, I'm not even surprised in the slightest. Said building is not only equipped with an on-site fitness facility and a juice bar, but it even has a 75-foot indoor pool, which is lit by a giant skylight above it, People reports. It sounds absolutely incredible, and I'd totally live there, too.
Many people feel that the comedian and pop star's relationship has been moving a little too quickly — as they announced their engagement shortly after announcing their relationship — but their body language shows that they really love and trust each other. It also shows that they're super comfortable around one another, and that despite the fact their relationship has progressed at a quick page, their decision to get engaged seems totally right for them.
Davidson and Grande are quite a match. Even though Davidson is supposed to be the comedian in the relationship, Grande is definitely giving him a run for his money with all the, um, innuendos she's playing around with. Needless to say, I'm super excited to see where life takes them, and most importantly, I can't wait to hear the singer's latest song, "Pete."