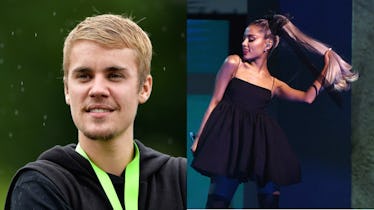 Ariana Grande Had Some Thoughts About Justin Bieber & Hailey Baldwin & I'm Here For It
Stuart Franklin/Getty Images Sport/Getty Images & Ethan Miller/Getty Images Entertainment/Getty Images
This year has certainly proved itself to be a romantic whirlwind for some celebrities. Just when I thought I had recovered from Ariana Grande and Pete Davidson's surprise engagement, rumor has it that Justin Bieber and Hailey Baldwin are reportedly planning to tie the knot as well. Some fans might think these two are moving a little bit fast, but Ariana Grande's comment about Justin Bieber and Hailey Baldwin's reported engagement shuts down any criticism.
On July 8, Twitter went into complete meltdown when it was revealed that Justin Bieber and Hailey Baldwin were reportedly engaged. Elite Daily reached out to Justin Bieber and Hailey Baldwin's representatives for comments on the reported engagement at the time, but didn't hear back. Naturally, some fans linked this reported sudden engagement to Ariana Grande and Pete Davidson's whirlwind romance. However, one person took to Twitter to not only blast the sudden engagement, but joked that Grande and Bieber's manager, Scooter Braun, was the brains behind both ordeals.
"First Ariana get engaged to Pete Davidson and now Justin Bieber to Hailey Baldwin...the devil works hard but Scooter Braun works harder," the Twitter user wrote.
However, in typical queen Ariana Grande fashion, the singer-songwriter defended Bieber and Baldwin's relationship, as well as her and Davidson's, through a series of now-deleted tweets.
She wrote,
You do realize we are human beings who love and have lives...right...? And that Scooter is a wonderful human being too who cares first n foremost ab our health and happiness?
Grande also followed up her total clap back by revealing that Braun is actually vacationing with his family at the moment, which would mean he was nowhere near Bieber's reported proposal to Baldwin. Well, I hope he's not having as serious FOMO as I am right now.
I definitely support Ariana for sticking up for her fellow celebrities. I don't know about y'all, but I was just getting used to the fact that she and Pete Davidson announced that they are officially engaged. Now, I'll have to wait on the edge of my seat until Bieber and Baldwin confirm that the reports of their supposed engagement are accurate (hopefully).
Sure, there are definite similarities between Grande/Davidson and Bieber/Baldwin's romances, but that doesn't mean that their circumstances are the exact same. Let's be real, we're not involved in Grande nor Bieber's relationships, so even if we may not agree with how quickly things are moving, we should probably keep our opinions to ourselves.
Plus, it looks like both parties' parents are super excited about the couple's reported engagement. Following Bieber's supposed proposal on July 7, Bieber's father, Jeremy Bieber, took to Instagram the next day to share a cryptic, but very supportive, photo that piqued my interest.
In addition to his post, Bieber's mom also tweeted a very sweet post that dare I say has something to do with this reported engagement.
Justin Bieber's parents have always been great support systems for the singer-songwriter, but Hailey Baldwin is a bit more of a mystery to us all. However, on July 8, Baldwin's father, Stephen Baldwin, took to Twitter to share one of the sweetest (and honestly most extra) messages any future son-in-law could hope for.
He wrote,
Sweet smile on my face! Me&wife (Kennya) Always pray 4 gods will!! He is moving in the hearts of JB&HB. Let's all pray for His will to be done. Love you 2 so much!!!
All I can say to that tweet is... wow. If I ever get engaged, could Stephen Baldwin make the toast at my wedding? Talk about the hype man of the century.
We may never understand the spontaneity behind these spontaneous relationships, but one thing is for sure, love sure works in mysterious ways.