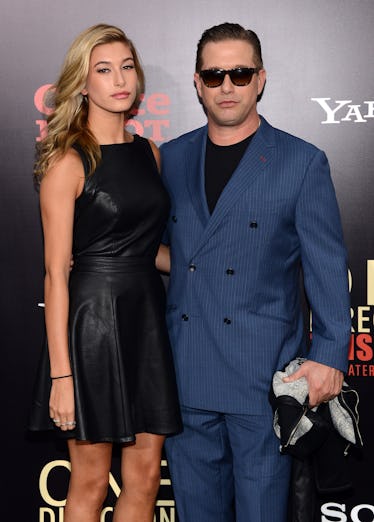 Hailey Baldwin's Dad May Have Just Confirmed Those Engagement Reports & I Can't
Larry Busacca/Getty Images Entertainment/Getty Images
Did Stephen Baldwin accidentally confirm that his daughter Hailey Baldwin and Justin Bieber are officially engaged? I'm not a betting gal, but if I were... On Sunday July 8, TMZ reported that the on-again-off-again couple reportedly got engaged, and though the pair has yet to make any official statement, Stephen Baldwin's tweet after Justin Bieber and Hailey Baldwin's engagement reports has me stunned, so can we mark that as a yes they're totally engaged? Please?
While Bieber and Baldwin were vacationing in the Bahamas, witnesses told TMZ that Bieber reportedly proposed to Baldwin on Saturday, July 7. Elite Daily reached out to teams for both Bieber and Baldwin for comment, but did not immediately hear back. Now, since that shocking news spread, I have been scouring (stalking) all the social feeds of Bieber, Baldwin, and everyone even closely related to them for confirmation. Sadly, folks are staying pretty quiet. Except for Daddy Baldwin who tweeted (accidentally?) about the reported engagement. The tweet has since been deleted, but according to US Magazine, Baldwin congratulated the couple ( and even Bieber's parents) in a July 8 tweet. He wrote,
Sweet smile on my face! Me&wife (Kennya) Always pray 4 gods will!! He is moving in the hearts of JB&HB. Let's all pray for His will to be done. Love you 2 so much!!!
The tweet was deleted shortly after, so I'm thinking that's confirmation that Jailey is headed down the aisle, right? Baldwin's father didn't just find out from a tweet or a story online, he must have been told and then sent out a formal congratulations on Twitter, as famous people are wont to do. As I said, the tweet was taken down and no one else close to the couple has confirmed, so I guess we'll just have to wait.
The only semblance of a "confirmation" we have comes from a July 8 Instagram post from Bieber's dad, Jeremy Bieber. He posted a photo of his son with the caption, "@justinbieber Proud is an understatement! Excited for the next chapter!"
I don't want to speculate too much (who am I kidding of course I do) but that "next chapter" must be referring to Bieber and Baldwin's engagement. Who's with me?
If you're wondering why I'm so desperate for confirmation, it's because duh. Really, who saw this coming? After Bieber and Baldwin ended their brief relationship back in 2016, the couple swore up and down that they were just friends, and less than a year ago Bieber was back with Gomez — and don't you even tell me that you didn't think they would be the ones announcing their engagement RN. Up until a month ago, I forgot that Baldwin and Bieber ever even had a thing.
It's not my fault that it slipped my memory, since the Jailey rumor mill kind of slowed down because everyone was team Jelena. Well, that was until Bieber posted a picture of himself to Instagram on June 17 kneeling with a women beside him who could only be seen from the waist down. NBD, except for that he was spotted kissing a woman wearing the same outfit on that very same day. Can you guess who it was? You got it: Baldwin.
Cut to less than a month later, and now they're engaged. They couldn't have been dating for more than a few months since Bieber and Gomez called it quits in March, but when you know you know, I guess. Maybe it's really been Baldwin all along and all of us were just too blinded by romance nostalgia? Things are becoming clearer now. Everything is different. Now if you'll excuse me, I'm gonna go ponder the lifestyles of the young, rich, and famous. Thank you.