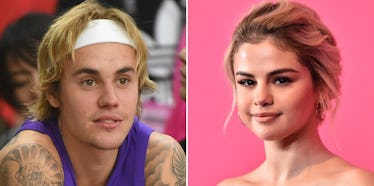 Justin Bieber Reportedly Wants Selena Gomez Back & TBH, We Don't Blame Him
Jayne Kamin-Oncea/Frazer Harrison/Getty Images
Jelena's "break" is starting to look more like a permanent breakup, and that reality has apparently started to sink in with Justin Bieber. Ever since it was revealed the couple was spending time apart, a question on a lot of peoples' minds was: Will Justin Bieber and Selena Gomez get back together? The answer to that question is seemingly starting to make itself clear, and it's, uh, not good.
Gomez and Bieber have reportedly been on a break since March. Sources said they weren't getting along well, so they wanted to spend some to themselves to think. This break has apparently become more of a breakup, however, and Bieber reportedly wants Gomez back. A source told People, "He loves her. He wants her back," adding he "misses" Gomez. Elite Daily reached out to Bieber and Gomez's teams for comment on this report, but did not hear back by the time of publication.
When they first went on their break, a source told People that this didn't seem like a permanent separation, as they still went to church together despite the break. "They weren't getting along and decided to take a break," they said. "It doesn't seem like a big deal and they will probably be fine soon again." But seeing as Gomez is portraying just about every sign of a woman enjoying her new freedom, it doesn't look like she's eager to get back with the "Sorry" singer.
Gomez has been posting on Instagram a lot lately, and she's looking hella carefree in all of the photos.
Lots of women know the feeling. You're in a relationship, or you're in a serious ~fling~, that ends, you suddenly have all of this free time, and you remember how wonderful it feels to just be with your friends all the time. It kind of seems to me like this is what Gomez is going through, based on her Instagram posts and her vacation to Australia. She just doesn't seem to me like she's stressing about what to do about her relationship with Bieber. And that's OK. If homegirl's done, she's done. But the Biebs seems to be kind of heartbroken over all of this, based on reports of how he's feeling about the break.
Gomez's friends are also posting a lot of photos with her, which to me looks like supportive girlfriends trying to lift a friend's spirits after a breakup.
There's also this video of Gomez jamming to "This Is Me" from The Greatest Showman that Keala Settle (the song's singer) posted to her Instagram on April 3.
Honestly, same. This song is the forever jam. But the video could also be more proof that Gomez is feeling fine without Bieber — she looks like she's having the time of her life in this car. It's not clear who filmed the video, but Settle posted it with the caption, "Aaaaaaahhhh @selenagomez I ADORE YOU!!!!"
Bieber hasn't been silent on social media, though. He's been posting on Instagram a bunch, as well.
This selfie of Justin Bieber holding a bowl of spaghetti makes me feel so seen.
He's also been posting photos with friends because two can play at that game, Selena!!
Just kidding, I'm not trying to pit these two against each other. I just want answers. Are you together? Are you broken up? Are you ever getting back together? This back-and-forth since 2011 is giving me whiplash.
Back in February, shortly after it was revealed Gomez went to NYC to seek treatment for her depression and anxiety, a source told People that Bieber and Gomez's relationship seemed to be the most mature it has ever been. The source strongly hinted that this could be the time things really work out between the two. "Their relationship is very special," the source said.
They continued,
They have both changed, their lives are so different and it really seems things could work out great this time. Justin realized that he needed to change, reached out for help and is doing very well. The same [goes] for Selena — the second she doesn't feel well, she seeks help. They have both hugely matured. Justin is very supportive of Selena feeling her best.
... I guess they spoke too soon.