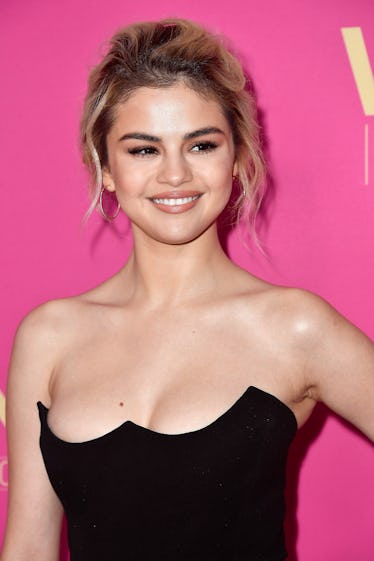 Selena Gomez Had A Slumber Party With Matching Pajamas & You Can Buy Them At Target
Frazer Harrison/Getty Images Entertainment/Getty Images
I always wanted to have a sleepover with my best friends like Rizzo had with The Pink Ladies in the movie Grease: All my friends would come over and we'd stay up late playing games, parading around my room to our favorite tunes, sharing juicy gossip about our love interests and dressing in the cutest/girl-iest pajamas we had. But IRL, things weren't so glamorous: We'd have a bedtime, be required to keep the noise to a minimum, and would usually fall asleep in a pair of old sweats and an over-sized T-shirt. That's why I'm completely fanning out over these photos of Selena Gomez's slumber party with matching pajamas — they're exactly what any of us could imagine a sleepover ever being.
On April 3, Gomez and her friends, Theresa Mingus, Paige Reed, and Rebeka Walters, had what looks like a perfect girls-night slumber party. Walters posted a photo to Instagram, which showed the friends all sporting the same adorable pink pajama set. Mingus did a fun pose on top of the headboard. Reed and Walters sat in the middle of the bed in pure smiles, and Gomez posed at the bottom of the mattress, rocking Puma thigh high socks, which are reportedly a part of her new Puma collection that releases on April 6. Reed captioned the photo, "it's a pajama jam"
Fans swiftly commented on the post, obsessing over the girls' matching jammies, and, shortly after, Reed revealed where followers could get their hands on a pair. "Target!!! They are so comfy," she replied.
Um, too cute.
Bustle was kind enough to hunt down the cozy pajama set, which, thankfully for everyone who wants to shop from the comfort of their home, is available on the Target website for a very affordable $20. BRB, buying two.
I'm betting the friends had a lot to talk about — like Gomez's sometimes-beau Justin Bieber's reported new fling. The two have had a bit of a whirlwind romance for years, but decided to take another break from each other back in March. Things seemed amicable between the two, and many of us thought it'd be no time before they called things on again, but by March 22, Bieber had already been spotted apparently out on a date with a new woman, Baskin Champion. Still, a source told E! News that he's just killing time until Gomez comes back around. The insider reportedly explained:
Justin has been upset about the recent break from Selena and is trying to keep busy until they work things out ... Justin was introduced to Baskin through his friend group and they have only hung out a few times. He has definitely been liking her company, but to say they are dating is a huge stretch. Justin isn't trying to be serious with anyone but Selena.
I can totally picture Gomez getting her girlfriends' reads on the situation, especially considering that she and Bieber reportedly "absolutely" intended on getting back together. Another insider told E! News,
They were having a lot of little disagreements recently and one fight in particular blew up and caused them to decide to 'break up,' however, they've been in contact the entire time and their feelings for each other have not changed. They will absolutely get back together and they are not over, but they both need some time away from each other.
Orrr maybe she's not as melodramatic as some of us and was celebrating the release of her new shoe line. On April 6, Gomez's sneakers, called the Phenom Lux, will be released through Puma — but they're not just any sneaker: The shoes feature boxy cutouts, a stunning gold ankle bracelet, and smaller gold accents. The collaboration is the latest in Gomez's various business ventures, which obviously always makes for juicy gossip.
Who knows what they were talking about at the slumber party, but one thing is for certain: These pajamas are so bomb, and I need a pair ASAP.