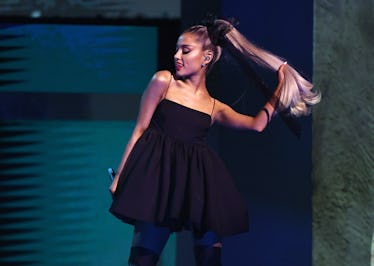 Ariana Grande Shared A Teaser Of Her Song With Nicki Minaj & Fans Are Losing It
Ethan Miller/Getty Images Entertainment/Getty Images
Is 2018 the year of this pop princess? It appears so. To keep up with her triumphant return, Ariana Grande tweeted a "Light Is Coming" preview, and I'm in complete suspense.
On May 27, Grande took to Twitter to share a short teaser of her and Minaj's upcoming collaborative single "The Light Is Coming." In the clip, Grande mouths Minaj's fiery verse and bops to her own lyrics. I don't know about y'all, but I cannot wait to blast this jam at full volume in my car. Ladies, start freshening up those vocal chords, because you'll have to be in top shape in order to rap to Minaj's caliber.
Since Ariana spilled to Jimmy Fallon on May 1 that her next album, Sweetener, will be hitting stands this summer, I've never craved hot weather more. Plus, as if this didn't cause fans to cheer loud enough, the singer-songwriter was even so kind as to give us the inside skinny about the first song on the track list. According to Grande, the first single is titled "Raindrops," and it's inspired from the popular 50's song "An Angel Cried."
May I just go on record and say that I'm absolutely loving this semi-water theme happening with this album? It's perfect for a beach day.
Enough of looking to the future for now. Let's instead focus on and enjoy this fire preview Grande has graced us with.
Naturally, fans were completely freaking out once Grande dropped the preview, and these tweets prove it.
This isn't the first time Minaj and Grande have released a total banger together. In fact, these two music powerhouses have a few hits under their belts. In 2014, Minaj collaborated with Grande on "Get On Your Knees" for her Pink Print album. Then, that same year, the two of them worked with U.K. artist Jessie J for the chart topping hit "Bang Bang." Finally, in 2016, the track "Side To Side" appeared on Grande's Dangerous Woman album with Minaj as an incredible feature. Is it possible for these ladies to release a single that's anything less than incredible? I highly doubt it.
On April 20, Grande shook the entire nation when she released her latest single "No Tears Left To Cry," and she took her iconic return one step further with an amazing performance at the 2018 Billboard Music Awards.
A true queen.
Personally, I am so here for Grande's comeback. It's safe to say the past few months have probably been difficult for the pop princess, especially since she split with rapper ex-boyfriend Mac Miller earlier this year. According to TMZ, Miller and Grande split amicably due to conflicting work schedules, but the female powerhouse posted a sweet message on her Instagram story to show fans that there's nothing but love between the two.
Grande wrote,
Hi! This is one of my best friends in the whole world and favorite people on the planet Malcolm McCormick I respect and adore him endlessly and am grateful to have him in my life in and form, at all times regardless of how our relationship changes or what the universe holds for each of us! Unconditional love is not selfish. It is wanting the best for that person even if at the moment, it's not you. I can't wait to know and support you forever and I'm so proud of you!!
Following the release of "No Tears Left To Cry," Miller took to Twitter to show support for his ex-girlfriend. Is there such a thing as #excouplegoals? If not, I think they should be the first ones.
Grande is reportedly dating comedian Pete Davidson now, but rest assured this pop princess can release girl power hits with, or without, a man by her side. We love you Ariana!