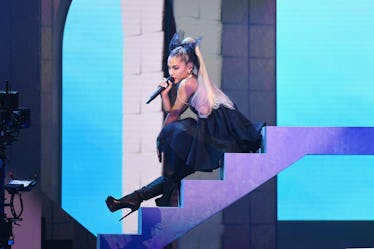 Ariana Grande's Look Just Channeled Madonna & I Have No Tears Left To Cry
Ethan Miller/Getty Images Entertainment/Getty Images
Just weeks after the famed Met Gala comes another night where red carpet fashion will set the internet abuzz. And Ariana Grande's 2018 Billboard Music Awards look would no doubt be on every "Best Dressed" listicle if she'd walked the red carpet. But unfortunately she didn't. Perhaps it was the weather (it was very hot, makeup was melting on screen), or perhaps it was because she was opening the show, but whatever the reason, Grande stayed indoors and got ready to rock the house.
After seeing Grande's look for the Met Gala this year, I was expecting big things in terms of what she'd wear Sunday night. She turned up to what is arguably the most important fashion event of the year in a sweeping Vera Wang ball gown that totally stole the show.
The theme for this year's Met Gala was "Heavenly Bodies: Fashion and the Catholic Imagination," and unlike many other celebrities, Grande executed it perfectly. Her strapless gown was inspired by Michelangelo's "The Last Judgment," which is a painting inside of the Sistine Chapel in Rome's Vatican City. Arguably one of the most known and important masterpieces by the artist, it was a brilliant source of inspiration for Wang, who transformed the work of art into fabric that Grande's gown was cut from. To accessorize the look, Grande wore a giant bow made of tulle on her head. She looked like god's literal gift to earth — I think it was one of her best red carpet looks ever.
At the 2017 Billboard Music Awards, Grande was nominated for Female Artist, Artist, and Social Artist. Although she didn't win any of the three awards, her red carpet look won the sartorial competition. Designed by Versace, she wore a black gown featuring numerous sexy cutouts that was accented with bright blue stitching and straps. It was intricate, sleek, and daring, and totally stole the spotlight.
On Sunday night, she's nominated for Social Artist once more. And while we'll have to wait to see if she'll take home a little gold microphone, we can confirm that her look, when she got on stage to perform, was yet another knockout, if you like her usual style, that is.
Ariana is amazing y'all. This girl has a look and she *sticks to it* when she's performing. It's always the pony with the big bow, the babydoll dress, and the boots to her mid thigh. She has a brand and she never wavers — and we have stylist Law Roach to thank for tonight's killer ensemble.
Ariana's look might be her own, but it also reminded fans at home of another major superstar at this point in their career.
This is the second major star Grande's found herself compared to in her career. The first, obviously, is Mariah Carey, due to her vocal range and musical skills. Now she's getting a shout out to one of the longest-lived women in the business. (Only Cher and the ladies of Fleetwood Mac have been going longer!) Could Ariana be as lucky and in 40 years time be simply "Ariana," because she no longer needs a last name at all?
Her performance was certainly on par. When it comes to awards Sunday night, though, she's only nominated for "Best Social Artist." But that's because she took the last year off, and didn't have an album in contention. That will be changing for next year when she releases Sweetener. The first single — "No Tears Left To Cry" — is already out and has been since April 27, which is what she sang Sunday night. The rest of the album arrives on July 20, 2018, so hurry up and pre-order it now.