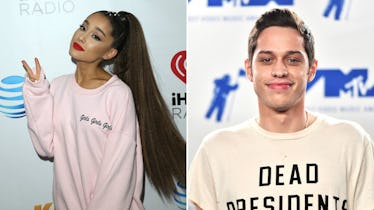 Ariana Grande & Pete Davidson's Disneyland Date After Engagement Rumors Looked Cute AF
Jesse Grant & Alberto E. Rodriguez/Getty Images Entertainment/Getty Images
You guyssss! What the actual hell is going on with Ariana Grande and Pete Davidson?! The pop-star and comedian are turning heads so fast with their whirlwind romance and recently sparked rumors they're engaged. Now, they're hanging out at the best place on earth. Disneyland. Ariana Grande and Pete Davidson's Disneyland date is totally jealousy-inducing and also might be to celebrate their engagement. I seriously can't handle it.
On Monday, June 11, Davidson and Grande enjoyed a late-night romp through Disneyland in Anaheim, California. Grande shared a series of videos of Davidson laughing and shouting on rides and they were spotted stepping off of a roller coaster together. Both Davidson and Grande were dressed in all black and Grande was rocking some mouse ears. One video Grande shared was of Davidson shouting on a ride and she captioned it, "when I'm on top." She's so cheeky.
Dude, this is serious.
Both Grande and Davidson recently ended previous relationships with rapper Mac Miller and comedian Cazzie David (Larry David's daughter), but if I can be honest it's like those partnerships never even happened. Grande and Davidson are so clearly wild about each other and with a potential engagement underway fans better get on board with their love story or take a freaking hike.
Here they are having, like, the best time.
While neither Grande nor Davidson has officially, officially confirmed their engagement, they haven't denied it either. Elite Daily reached out to Grande & Davidson's teams about the tumors, but did not hear back by the time of publication. Anyway, the pair are kind of busy egging freaked out fans on.
A special ring mysteriously popped up on Grande's left ring finger during her iHeartRadio and 102.7 KIISFM's Wango Tango concert in Los Angeles on June 2. Then, it made another appearance at her mom Joan's birthday.
After fans started putting two and two together on Twitter, Grande mysteriously tweeted, "i love u sm hi & thank u i love u bye."
WHAT DOES IT MEAN? WHAT DOES IT MEAN?
One fan tweeted at Grande directly saying, "I hope he knows he is marrying us as well." And instead of saying something like, "I don't know what you're talking about. What marriage? Carry on," Grande responded with this: "HAHAHAHAHA HE'S BEEN BRIEFED."
Like, come on. What more do fans need to lose their minds? Clearly, if Grande and Davidson aren't actually engaged they have no problem with all of their fans thinking they are.
After just under a month of dating, Davidson already made things permanent by getting to Ariana Grande tattoos on his body. One is her iconic Dangerous Woman bunny mask stamped right on his neck and the other is her initials on his thumb. Truthfully, tattoos are even more permanent than marriage, because marriage you can always reverse.
The genuine truth is these two seem wild about each other. One source told E! News they're way more compatible in real life than fans might think. The source explained, "Everyone thinks they're really cute together. People don't realize what a great sense of humor she has. It makes them a good match. They're having a good time."
According to Entertainment Tonight, Grande has already met Davidson's mom and is more than comfortable hanging out with her. Davidson took Grande to an SNL party where she spent most of her time with Amy Waters Davidson. A source told ET,
Pete introduced Ariana to his mother at Zuma in New York during one of the SNL after-parties. Ariana spent the majority of the night hanging out with her [Amy Waters Davidson]. Pete was circulating the room with the cast but Ariana was super comfortable being with [Amy].
Ah yes. SNL afterparties, Wango Tango concerts, and Disneyland. Is there any other way to kick of your engagement?
Check out the entire Gen Why series and other videos on Facebook and the Bustle app across Apple TV, Roku, and Amazon Fire TV.