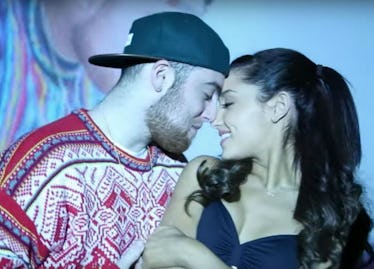 Ariana Grande & Mac Miller Unfollowed Each Other, So Maybe They're Not BFFs After All
YouTube
She said he was one of her favorite people on the planet, and one of her best friends in the world. She said both of those things! But now Ariana Grande and Mac Miller unfollowed each other on Instagram, and I seriously don't know what I can believe in anymore. I mean, I get that they broke up. I get it. But the split just seemed so amicable. Wasn't it just last week that Grande wrote about Miller on her Instagram story: "I respect and adore him endlessly and am grateful to have him in my life in any form, at all times regardless of how our relationship changes or what the universe holds for each of us"? Now, not only is their love dead, but it seems like Maciana's friendship is over, too. And just when I thought there were no tears left to cry!
Seriously, guys, I'm gonna need an explanation for this. You were so chill with each other like, five minutes ago. So what happened, sis? Why did you and Mac unfollow each other? I don't think I'll be able to sleep until I get an answer. According to TMZ, the breakup was a mutual decision by both performers because they were just too damn busy being rock stars and stuff. I totally bought that excuse at the time, but now, in light of these shady social media shenanigans, I'm kind of rethinking everything.
Meanwhile, look how cute these two were back in November:
Can't we just rewind? We don't even have to go back that far. It was less than a month ago when Grande's single "No Tears Left To Cry" dropped, and Miller was right there on Twitter showing his support.
See? And how about when the rapper popped up on stage for a surprise collab performance at the end of Grande's Manchester benefit concert last spring?
It was such an adorable display of music and love, but it was nothing compared to all the support Miller gave Grande in the weeks following the terrorist attack that resulted in the loss of 22 lives. Not only did he wait for Grande as she returned home to Florida following the tragedy, but he also canceled his scheduled performances over Memorial Day weekend to be by her side.
If that isn't true love right there, then I don't know what is! So where did it all go wrong? Can someone help a girl out? Please?! I am clearly crushed by the news of the breakup and subsequent unfollowing on the 'Gram, and I won't rest until I know what actually went down. But in the meantime, I'm pretty sure Grande is doing just fine. After all, this is a woman who once told Cosmopolitan that she doesn't need to be in love to feel complete:
I would like to be complete on my own first and fall in love with somebody who is also complete. You can still celebrate and be totally obsessed with each other, but I want to feel a hundred percent myself so that I can love that person better.
She also copped to putting other people's feelings before her own when she's in a relationship. "It can be taxing emotionally and drain the sh*t out of me," she told Cosmopolitan. "A lot of people forget about the whole self-love thing when they're in love, and both are imperative."
Could this be a clue to the reason behind the breakup? If so, I'm still not over it because these two were legit goals, but as long as Ari's happy, I'm happy.
OK, that was a lie. I'm all for Grande taking time for herself if she needs it, but then I'm gonna need these two to get back together ASAP.