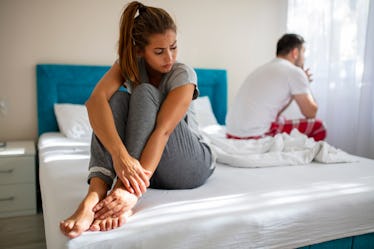 16 People Reveal How Much They've Actually Argued With Their SOs In Quarantine
Shutterstock
Disagreements in a relationship aren't just inevitable. They're also a positive sign that you and your SO are able to confront your differences rather than brushing them under the rug. When you're living and working under the same roof 24/7, with the added stress of a serious pandemic, those fights are even more understandable. If you're arguing with your partner in quarantine, rest assured that's a totally normal sign of growing pains in the face of new and uncertain circumstances. Those growing pains may not be pleasant, but they can pay off big time — because ultimately, working through them as a team might make your relationship stronger.
Quarantine is the ultimate test for couples. Given that you're both housebound, it can be more difficult to set boundaries between work and play, as well as bonding time and much-needed alone time. It's easy to get frustrated when your SO is distracting you from your Zoom meeting (did they always chew that loudly?) or forgets to grab chickpea pasta at the store (literally the most important item you requested, NBD). Now add in the anxiety-inducing fact that there's no definite end in sight to all this, and you've got a perfect storm of arguments.
Here's some good news, though: amidst all of the conflicting schedules, needs, and feelings, is an opportunity to understand each other better. That's my hopeful takeaway from speaking to 16 people who are currently quarantined with their partners.